Things to do in Houston today, and this weekend, with kids! November 29, 30, December 1, 2, 3, 4, 5, 2018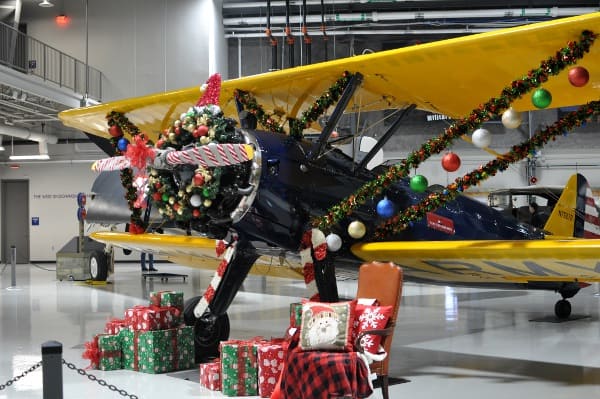 Plan out your weekend, in Houston, with kids!
Head downtown for the Mayor's Holiday Celebration by City Hall.  This free event includes music, Santa and fireworks.
Go see The Polar Express on the lawn at Levy Park and watch Santa Land at Lone Star Flight Museum.  Or go to Mr. Popper's Penguins by Main Street Theater at MATCH.
Get on the ICE at Discovery Green on any day… and be a Cheap Skate on Monday or Skate with Santa on Saturday.
For the full list of things to do, look below.
Things to Do Any Day:
All the holiday shows, lights and festivals!
Full list of things to do in Houston, with kids, November 2 – January 7
Magical Winter Lights in La Marque… Now through January 6, 2019!
Houston Zoo Lights 2018: Beat the Crowds & Save Money at Houston's Popular Holiday Event!
Trains Over Texas at the Houston Museum of Natural Science
Good Places to Take Family Photos in Houston
Discount Tickets to Houston Holiday Shows for 2018!
FREE Indoor Playplaces around Houston – There are a lot of FREE indoor places to play… with no memberships required!
Find a New Houston Area Park!
Houston Citywide Map: Things to do in Houston, with kids
Texas Roadtrips – Pack up the family and head towards Austin, San Antonio, Corpus Christi or Dallas… and stop at these parent recommended spots!
Thursday, November 29, 2018:
Free Museum Entry
Find a museum district restaurant HERE.
Festival of Lights – 10:00am-9:00pm – Moody Gardens (Value Day)
Ride the Holiday Train – 5:00pm-7:00pm –  Hermann Park Kinder Station (Hours change, check page for extended hours.)
Zoo Lights – 5:00pm-10:00pm – Houston Zoo
ICE – 5:00pm-10:00pm – Discovery Green
Magical Winter Lights – 5:00pm-10:00pm – Gulf Greyhound Park
Holiday Market – 5:00pm-10:00pm –  Hermann Park (by Kinder Station)
Sugar Land Holiday Lights – 6:00pm-9:00pm – Constellation Field
Santa's Wonderland– 6:00pm-11:00pm – College Station
How the Grinch Stole Christmas – 7:00pm – Discovery Green
A Christmas Carol – A Ghost Story of Christmas – 7:30pm – Alley Theatre (Save 20% with Discount Code SNOW)
Friday, November 30, 2018:
Festival of Lights – 10:00am-11:00pm – Moody Gardens
ICE – 11:00am-10:00pm – Discovery Green
Ride the Holiday Train – 5:00pm-7:00pm –  Hermann Park Kinder Station (Hours change, check pagefor extended hours.)
Dickens on the Strand– 5:00pm-9:00pm – Galveston
Holiday Market – 5:00pm-10:00pm –  Hermann Park (by Kinder Station)
Zoo Lights – 5:00pm-11:00pm – Houston Zoo
Magical Winter Lights – 5:00pm-11:00pm – Gulf Greyhound Park
Mayor's Holiday Celebration– 6:00pm-8:00pm – City Hall
Christmas Train– 6:00pm-10:00pm – Alvin
Sugar Land Holiday Lights – 6:00pm-10:00pm – Constellation Field
Santa's Wonderland– 6:00pm-12:00am – College Station
Family Movie Night: The Polar Express – 6:30pm – Levy Park
A Christmas Carol – A Ghost Story of Christmas – 7:30pm – Alley Theatre (Save 20% with Discount Code SNOW)
A Christmas Carol– 8:00pm – The Grand Galveston
Saturday, December 1, 2018:
Santa Surfs – Schlitterbahn Galveston
Trafigura Run for the House – 8:00am – Sam Houston Park
Holiday Gingerbread Decorating Class– 10:00am-12:00pm – Phoenicia
Holiday in the Park – 10:00am-5:00pm – Market Square Park
Dickens on the Strand– 10:00am-9:00pm – Galveston
Festival of Lights – 10:00am-11:00pm – Moody Gardens
Young Writers Workshop – 10:30am – Discovery Green
Santa Lands at Lone Star Flight Museum – 11:00am – Lone Star Flight Museum
Mr. Popper's Penguins – 11:00am & 2:00pm – Main Street Theater at MATCH
ICE – 11:00am-11:00pm – Discovery Green
HPL Express Craft – 11:30am – Discovery Green Library
Holiday Festival– 12:00pm-5:00pm – Levy Park
The Nutcracker– 2:00pm & 7:30pm – Wortham Theater
A Christmas Carol – A Ghost Story of Christmas – 2:30pm & 7:30pm – Alley Theatre (Save 20% with Discount Code SNOW)
A Christmas Carol– 3:00pm – The Grand Galveston
Houston's Urban Nutcracker– 3:00pm & 8:00pm – Hobby Center
Santa's Wonderland– 3:00pm-12:00am – College Station
An Old Fashioned Christmas – 4:00pm-7:00pm – Jesse H. Jones Nature Center
Skate with Santa – 5:00pm – ICE at Discovery Green
Ride the Holiday Train – 5:00pm-7:00pm –  Hermann Park Kinder Station (Hours change, check pagefor extended hours.)
Holiday Market – 5:00pm-10:00pm –  Hermann Park (by Kinder Station)
Zoo Lights – 5:00pm-11:00pm – Houston Zoo
Magical Winter Lights – 5:00pm-11:00pm – Gulf Greyhound Park
Christmas Train– 6:00pm-10:00pm – Alvin
Sugar Land Holiday Lights – 6:00pm-10:00pm – Constellation Field
Rockets vs Bulls – 7:00pm – Toyota Center
Sunday, December 2, 2018:
Santa Surfs – Schlitterbahn Galveston
Festival of Lights – 10:00am-9:00pm – Moody Gardens
ICE – 11:00am-8:00pm – Discovery Green
Holiday Festival– 12:00pm-5:00pm – Levy Park
Dickens on the Strand– 12:00pm-6:00pm – Galveston
Sunday Family Studio – 1:00pm & 2:30pm – Museum of Fine Arts Houston
Sunday Family Zone – 1:00pm-4:00pm – Museum of Fine Arts Houston
Lucinda y las Flores de la Noche Buena – 2:00pm – Lambert Hall
The Nutcracker– 2:00pm & 7:30pm – Wortham Theater
Houston's Urban Nutcracker– 3:00pm – Hobby Center
Big Band Holidays – Jazz at Lincoln Center with Wynton Marsalis– 4:00pm – The Grand Galveston
A Christmas Carol – A Ghost Story of Christmas – 2:30pm & 7:30pm – Alley Theatre (Save 20% with Discount Code SNOW)
Santa's Wonderland– 3:00pm-11:00pm – College Station
Cigna Sunday Streets – 4:00pm-8:00pm – Downtown between Market Square Park and Discovery Green
Ride the Holiday Train – 5:00pm-7:00pm –  Hermann Park Kinder Station (Hours change, check pagefor extended hours.)
Holiday Market – 5:00pm-10:00pm –  Hermann Park (by Kinder Station)
Zoo Lights – 5:00pm-11:00pm – Houston Zoo
Magical Winter Lights – 5:00pm-10:00pm – Gulf Greyhound Park
Sugar Land Holiday Lights – 6:00pm-9:00pm – Constellation Field
Monday, December 3, 2018:
Storytime at the Trains – Second Baptist Cypress
Festival of Lights – 10:00am-9:00pm – Moody Gardens
Ride the Holiday Train – 5:00pm-7:00pm –  Hermann Park Kinder Station (Hours change, check pagefor extended hours.)
Zoo Lights – 5:00pm-10:00pm – Houston Zoo
Magical Winter Lights – 5:00pm-10:00pm – Gulf Greyhound Park
Holiday Market – 5:00pm-10:00pm –  Hermann Park (by Kinder Station)
Cheap Skate – 5:00pm-10:00pm – Discovery Green
Santa's Wonderland– 6:00pm-11:00pm – College Station
Tuesday, December 4, 2018:
Storytime at the Trains – Second Baptist 1463
Festival of Lights – 10:00am-9:00pm – Moody Gardens
MFAH Playdate – 10:45am-11:15am – Museum of Fine Arts Houston
Ride the Holiday Train – 5:00pm-7:00pm –  Hermann Park Kinder Station (Hours change, check pagefor extended hours.)
Zoo Lights – 5:00pm-10:00pm – Houston Zoo
Magical Winter Lights – 5:00pm-10:00pm – Gulf Greyhound Park
Holiday Market – 5:00pm-10:00pm –  Hermann Park (by Kinder Station)
ICE – 5:00pm-10:00pm – Discovery Green
Sugar Land Holiday Lights – 6:00pm-9:00pm – Constellation Field
Santa's Wonderland– 6:00pm-11:00pm – College Station
Wednesday, December 5, 2018:
Festival of Lights – 10:00am-9:00pm – Moody Gardens
Ride the Holiday Train – 5:00pm-7:00pm –  Hermann Park Kinder Station (Hours change, check pagefor extended hours.)
Zoo Lights – 5:00pm-10:00pm – Houston Zoo
Magical Winter Lights – 5:00pm-10:00pm – Gulf Greyhound Park
Holiday Market – 5:00pm-10:00pm –  Hermann Park (by Kinder Station)
ICE – 5:00pm-10:00pm – Discovery Green
Sugar Land Holiday Lights – 6:00pm-9:00pm – Constellation Field
Santa's Wonderland– 6:00pm-11:00pm – College Station
Looking for more to do in your part of town? Check out…
365 Things to Do in Houston for grown-up things to do.
Fun2Go Misters for things to do near Humble.
Mac Kid SW Houston for things to do in SW Houston, Missouri City, Sugar Land.
Woodlands Mommy for things to do around The Woodlands.
Gish Picks… Curated Culture for Kids and Adults