Things to do in Houston today, and this weekend, with kids! October 4, 5, 6, 7, 8, 9, 10, 2018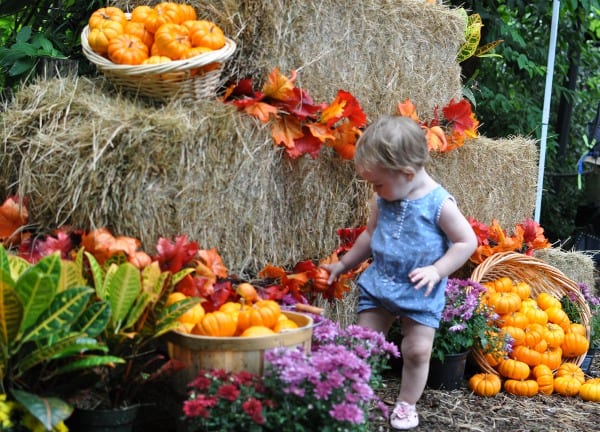 Make your plans for things to do in Houston, with kids!
Go to Discovery Green for moonGARDEN: "Goodnight, Moon".  Wear your pajamas,  enjoy milk and cookies, stargaze with the Astrological Society and listen to the story.
Take the family to Hands On Houston: Mixed Media Sculptures at Houston Center for Contemporary Craft.  Play with form and color, as you experiment with pattern, texture, and proportion, to design your own small sculpture using a range of materials.
Watch Curious George: The Golden Meatball at Main Street Theater.  If you can't get tickets for this weekend, plan ahead to see everyone's favorite curious little monkey and his friend in the yellow hat.
Or find a farm, festival and pumpkin patch HERE!
For the full list of things to do, look below.
Things to Do Any Day:
Fall Festivals and Farms!
FREE Indoor Playplaces around Houston – There are a lot of FREE indoor places to play… with no memberships required!
Houston Citywide Map: Things to do in Houston, with kids
Texas Roadtrips – Pack up the family and head towards Austin, San Antonio, Corpus Christi or Dallas… and stop at these parent recommended spots!
Thursday, October 4, 2018:
Free Museum Entry – Museum District
Find a museum district restaurant HERE.
Family Storytime – 10:00am – Levy Park
Greek Festival– 5:00pm-10:00pm – Annunciation Greek Orthodox Cathedral
moonGARDEN – 6:00pm-12:00am – Discovery Green
Rockets vs Pacers (Preseason) – 7:00pm – Toyota Center
39th Annual Festival Chicano – 7:00pm – Miller Outdoor Theatre
Friday, October 5, 2018:
Farm Fun & Pumpkin Patch – 9:30am-3:30pm – Blessington Farms
Children's Story Hour – 10:00am-11:00am – Hermann Park
Little Artists – 10:30am – Museum of Fine Arts Houston
Greek Festival– 11:00am-3:00pm & 5:00pm-10:00pm – Annunciation Greek Orthodox Cathedral (Free admission 11:00am-3:00pm)
moonGARDEN – 6:00pm-12:00am – Discovery Green
39th Annual Festival Chicano – 7:00pm – Miller Outdoor Theatre
moonGARDEN: "Goodnight, Moon" – 7:00pm-9:00pm – Discovery Green
Saturday, October 6, 2018:
Food Allergy Heroes Walk – 8:00am-11:00am – Memorial Park
Texas Renaissance Festival –Todd Mission, Texas
Halloweekends – Splashway Campgrounds in Sheridan
Flu Boo – 9:00am-12:00pm – Nurture Pediatrics
PLAY 60 at the Park – 10:00am – Evelyn's Park
Houston Symphony: Peter and the Wolf – 10:00am & 11:30am – Jones Hall
Pollinator Festival – 10:00am-4:00pm – Mercer Botanic Gardens
Farm Fun & Pumpkin Patch – 10:00am-5:00pm – Blessington Farms
Young Writers Workshop – 10:30am – Discovery Green
Little Artists – 10:30am – Museum of Fine Arts Houston
Hands On Houston: Mixed Media Sculptures – 11:00am-3:00pm – Houston Center for Contemporary Craft
Greek Festival– 11:00am-10:00pm – Annunciation Greek Orthodox Cathedral
Kids Oktober Festival– 12:00pm-5:00pm – Czech Center Museum Houston
STEM Saturday – 12:30pm – Discovery Green
Loteria Night! – 6:00pm-8:00pm – Discovery Green
moonGARDEN – 6:00pm-12:00am – Discovery Green
39th Annual Festival Chicano – 7:00pm – Miller Outdoor Theatre
METdance Season Kickoff – 8:00pm-10:00pm – Discovery Green
Park to Port Bike Ride – 7:30am – Hermann Park
Sunday, October 7, 2018:
Texas Renaissance Festival –Todd Mission, Texas
Halloweekends – Splashway Campgrounds in Sheridan
Farm Fun & Pumpkin Patch – 10:00am-5:00pm – Blessington Farms
Greek Festival– 12:00pm-6:00pm – Annunciation Greek Orthodox Cathedral
Curious George: The Golden Meatball – 12:30pm & 3:30pm – Main Street Theater
Sunday Family Zone – 1:00pm-4:00pm – Museum of Fine Arts Houston
moonGARDEN – 6:00pm-12:00am – Discovery Green
Monday, October 8, 2018:
Houston Citywide Map: Things to do in Houston, with kids
Tuesday, October 9, 2018:
Toddler Tuesday: Jazz Baby – 10:30am – Discovery Green
Rockets vs Sharks (Preseason) – 7:00pm – Toyota Center
Wednesday, October 10, 2018:
Nature Story Time – 4:00pm – Nature Discovery Center
Children's BINGO – 4:30pm – Levy Park
Looking for more to do in your part of town? Check out…
365 Things to Do in Houston for grown-up things to do.
Fun2Go Misters for things to do near Humble.
Mac Kid SW Houston for things to do in SW Houston, Missouri City, Sugar Land.
Woodlands Mommy for things to do around The Woodlands.
Gish Picks… Curated Culture for Kids and Adults