Things to do in Houston today, and this weekend, with kids! August 9, 10, 11, 12, 13, 14, 15, 2018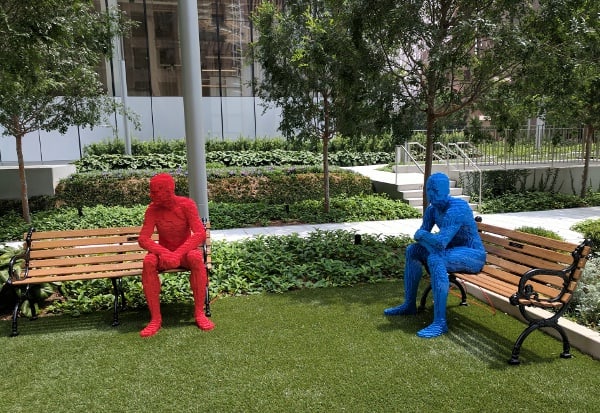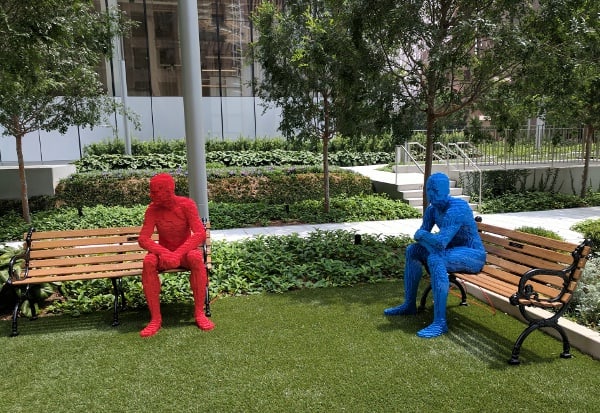 Plan out your weekend in Houston, with kids!
Beat the Heat with the bash at the Houston Zoo.  Play in the snow and splash in the splashpad!
Go see the Park People at Allen Center Downtown.  The monochromatic, interactive Lego brick sculptures are seated on benches, waiting for you to sit next to them.
Or go cheer for the Skeeters at Constellation Field and the Astros at Minute Maid Park.
For the full list of things to do, look below. To plan out your summer, HERE are all the events planned through August!
Things to Do Any Day:
Stay Cool this Summer… FREE Houston Splashpads, Pools & Air Conditioned Venues – Look here for FREE Splashpads, Pools, Beaches and Indoor Air Conditioned Venues!
FREE Indoor Playplaces around Houston – There are a lot of FREE indoor places to play… with no memberships required!
Movie Theater Kids Movies for $1 or Less, All Summer Long 2018 – No really. $1 movies for kids and adults!
Houston Citywide Map: Things to do in Houston, with kids
Things to do in Galveston, with kids – Beaches, museums, parks and restaurants to visit in Galveston!
Texas Roadtrips – Pack up the family and head towards Austin, San Antonio, Corpus Christi or Dallas… and stop at these parent recommended spots!
Thursday, August 9, 2018:
Park People – Allen Center Downtown
Free Museum Entry – Museum District
Find a museum district restaurant HERE.
Astros vs Mariners – 7:10pm – Minute Maid Park
Friday, August 10, 2018:
Park People – Allen Center Downtown
Fly in for Storytime – 9:30am – Lone Star Flight Museum
Beat the Heat Bash – 5:00pm – Houston Zoo
Skeeters vs Patriots – 7:05pm – Constellation Field
Astros vs Mariners – 7:10pm – Minute Maid Park
Saturday, August 11, 2018:
Smitty's Day at the Park – 8:00am-2:00pm – Moody Park (Pre-registration recommended)
Young Writers Workshop – 10:30am – Discovery Green
Naturally Wild Families: DIY Natural Dyes – 11:00am-1:00pm – Houston Arboretum and Nature Center
MD Anderson Children's Cancer Hospital Back to School Fashion Show – 12:00pm-2:00pm – Galleria (between Nordstrom and Macy's)
Free Play Day – 12:00pm-4:00pm – Houston Fire Museum (Free admission for kids)
Open Gym – 1:00pm-3:00pm – H-Town Elite Gymnastics
Beat the Heat Bash – 5:00pm – Houston Zoo
Skeeters vs Patriots – 6:05pm – Constellation Field
Astros vs Mariners – 6:10pm – Minute Maid Park
Sunday, August 12, 2018:
Astros vs Mariners – 1:10pm – Minute Maid Park
Skeeters vs Patriots – 6:05pm – Constellation Field
Monday, August 13, 2018:
Park People – Houston Center Downtown
Skeeters vs Patriots – 7:05pm – Constellation Field
Special Pirate Celebration – 8:00pm – Pirates Bay Baytown (For Special Needs Families)
Tuesday, August 14, 2018:
Park People – Houston Center Downtown
Two for Tuesday (Buy One Get One Free Admission) – Downtown Aquarium
Skeeters vs Patriots – 7:05pm – Constellation Field
Astros vs Rockies – 7:10pm – Minute Maid Park
Wednesday, August 15, 2018:
Park People – Houston Center Downtown
Nature Storytime – 4:00pm – Nature Discovery Center
Skeeters vs Patriots – 7:05pm – Constellation Field
Astros vs Rockies – 7:10pm – Minute Maid Park
Looking for more to do in your part of town? Check out…
365 Things to Do in Houston for grown-up things to do.
Fun2Go Misters for things to do near Humble.
Mac Kid SW Houston for things to do in SW Houston, Missouri City, Sugar Land.
Woodlands Mommy for things to do around The Woodlands.
Gish Picks… Curated Culture for Kids and Adults