From Toddlers to Adults-that-Never-Learned-to-Skate… Everyone Can Enjoy the ICE at Discovery Green! Now through January 21, 2018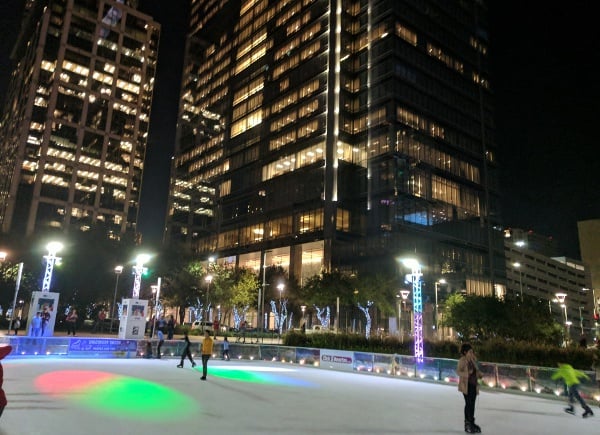 The 
ICE at Discovery Green
!
For years I took my young kids to skate at the toddler rink while I stood on dry land.  Then a few winters ago, I was brave enough to try the ICE.  We all did a lot of wall-holding… but now the entire family looks forward to winter at Discovery Green!
Each November, Kinder Lake is drained and replaced by the ice.  There is a large rink for all to enjoy, as well as a toddler rink for the littlest ones to practice.  Parents can hold the little hands from the edge… so you only have to wear skates if you want to!
Skates come as small as size 8. (It used to be smaller!) If your kids want to skate and you don't want to… you only have to pay for the kids.
Ice skating at Discovery Green will be open through January 21, 2018.  Look for weekly events, including Cheap Skate Nights and Skate with Santa, on the BigKidSmallCity Events List, HERE!
ICE Rink Admission is $14 and includes skate rental and tax.  Cheap Skate is $8.  (Find discounts HERE.)
Hours of Operation:
Monday–Thursday 5–10 p.m.
Friday 5–11 p.m.
Saturday & School Holidays 11 a.m.–11 p.m.
Sunday 11 a.m.–8 p.m.
Thanksgiving Day 11 a.m.–11 p.m.
Christmas Eve & New Year's Eve 11 a.m.–7 p.m.
Christmas Day & New Year's Day 1 p.m.–7 p.m.
Martin Luther King Day 11 a.m.–10 p.m.
*School holidays include: Nov. 20–24, Dec. 25–29, Jan. 1–5 and Jan. 15
**The ICE will be closed to the public after 4 p.m. on Dec. 10 and Jan. 21
Tickets
Also, while you are skating, stop by the awesome "Hello, Trees!" and the Giant Gingerbread House at the Hilton.  Find all the Houston holiday events, HERE!