Blogs & Businesses: BlogPreneur Online Course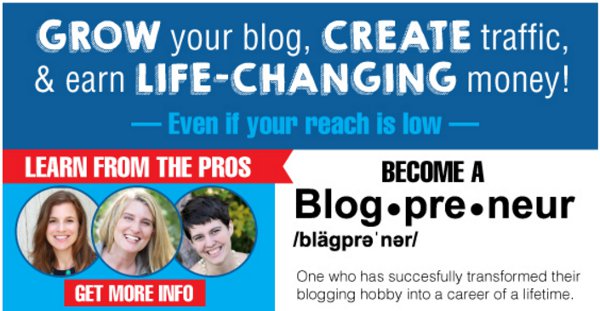 Well friends, I was going to wait until January to post more about starting your own website… but I just finished a new online course and sign-ups close on December 23, 2015 this year.
Last week I shared the Question-and-Answer session I hosted on starting your own website.  In it I mentioned that you could learn more about blogging at conferences, groups… or with online courses.  The online courses are often the best way to get started, because you can start them immediately.
One of the courses is BlogPreneur.  I JUST purchased it and I JUST finished it.  This series includes videos and printables and goes through the basics, the tricks to social media and monetizing the website.  Learn more about the course with my link HERE.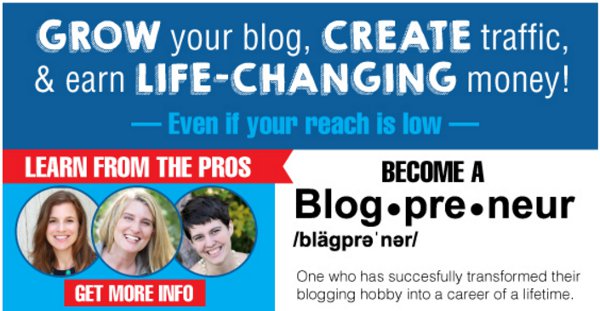 I did the course in a weekend and kept stopping the videos to implement the suggestions on my website.
And candidly, the reason I really like this course is because it was written by 3 moms that are getting millions of page views per month and make about $30,000/month each.  (Becky posts an income statement online each month, so you can see exactly how she does it.)
One woman even retired her husband with the income she makes on her blog.  I would really like to do this one day.
So, instead of another course or conference with a lot of ideas that sound good… this course is to teach bloggers to do what they have done.
I was planning to share this in a New Years series… but like I mentioned, they are closing sign ups on December 23.
If you are thinking about starting a blog or website in 2016, read on to see what is in the course:
How to write for your audience
What makes a post go viral
How to run your blog like a business
Science behind Pinterest
Content strategies
How to monetize your Facebook page
Types of passive income
and more!
The course is $297 through December 23 and comes with these free bonuses:
FREE eBook: A Stronger Blog in 30 Days

BlogPreneurs Only Exclusive Facebook Group (This is what I'm excited about.)

50% off the upcoming YouTube 101 Course

Exclusive Q&A Follow-up Webinar

Get entered for a chance to win a FULL blog review by the B2B Team

Email List Building CRASH COURSE from CreateIfWriting.com
I bought this course for $297 and think it has as much value as a conference (which would cost about the same, plus hotel room).  It also has the closed Facebook group to build community.
If you are interested in building a website in 2016, go HERE!