Ideas for Planning Polar Bear Birthday Party! (Or Any Animal Themed Party!)
It's Shanna! This year my daughter decided she wanted a polar bear theme for her birthday party. Everything we did was specific to polar bears but most of our ideas could easily be adapted to other animals too.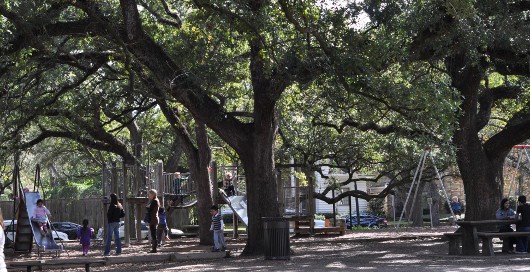 Read on for details on selecting a polar bear charity (instead of receiving gifts), creating two polar bear games and making the cake and party favors!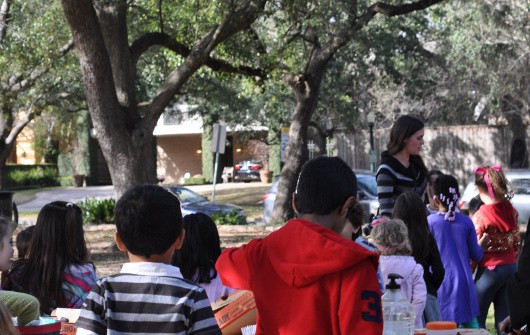 Following the example of other members of the BigKidSmallCity community, I encouraged my daughter to choose a cause that she thought was worthy. Since she was having a polar bear party, she decided that she wanted to help save the polar bears. On the invitation we asked the guests to consider bringing a small contribution for wildlife conservation instead of a gift. We collected all of these and were able to make donations to both the World Wildlife Fund and Polar Bears International.
Another great organization to donate through is the Houston Zoo; they guarantee that 100% of the proceeds donated through them will go directly to animal conservation efforts. My daughter had been worried that she wouldn't get any presents, but several of her friends brought gifts instead of donations and, of course, she still got presents from family too. In the end she was pleased with the number of presents she received and also felt really good about donating money to a worthy cause.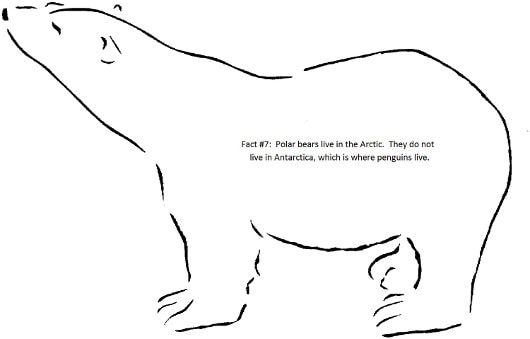 We had the party at a nearby park and were lucky enough to get beautiful weather. Although the kids would have been happy to just play, we also had two activities for them to do.
The first activity was a polar bear fact hunt.
Several days before the party I did some research and found 15 facts about polar bears that I thought the kids wouldn't know (sample facts are at the bottom of this post). Then I found a printable outline of a polar bear and made 15 copies, so I could add one fact to each copy. I also created a short quiz about these facts.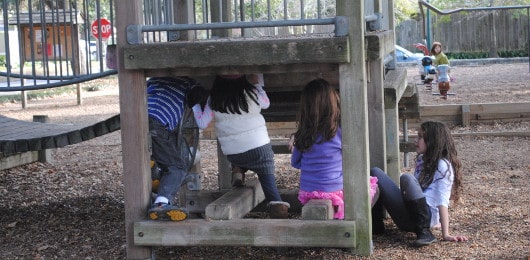 On the day of the party I taped the 15 fact sheets up around the park: on the back of a bench, under a slide, to the back of a tree, etc. When it was time for this activity I gathered the kids together, put them into small teams, and told them to find the 15 sheets, read the information on them, then come back to take a quiz in order to win a prize.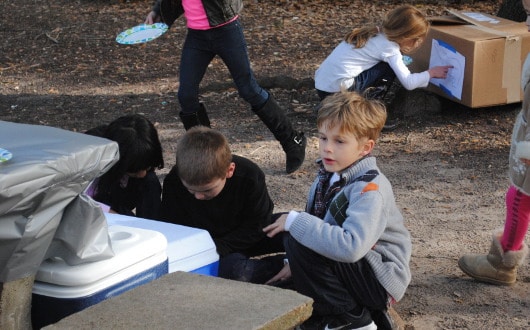 The kids had a great time searching, learning new things, and getting the prize (a small pack of gummy bears!). Although most of the kids at our party could read, I asked the older kids to read the information to younger siblings. For groups of pre-readers an adult could go with them to read and the difficulty of the facts and clues could easily be changed to match the level of the participants.
In the second activity the kids pretended to be scientists going to study polar bears and they had to cross an "arctic water channel" using "icebergs" so they didn't get wet. The water channel was simply two lines in the dirt, about 20 feet apart from each other. The icebergs were poster board that had been cut into four pieces that were about 11"x14" each.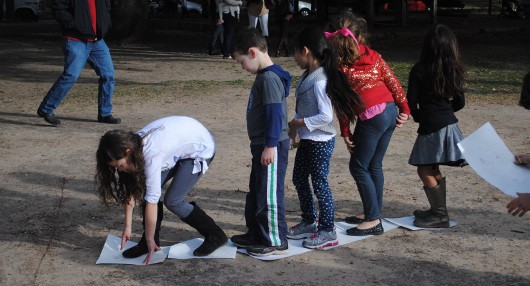 The kids were divided into teams of 5-7 people and each person was given one iceberg. The teams started behind one of the lines in the dirt and everyone on the team had to get across to the other line without touching the "water." They had to step only on the icebergs, but also had to be touching it at all times or it would float away in the current (an adult would come take it away).
This made them do some problem solving as they figured out they couldn't just toss the poster board down, but had to place it down and keep their hand on it as they stepped onto it. Because there was only one per person, it also made them work together by passing icebergs up to the front of their group to continue moving forward while they shared space on each iceberg.
This game could be made more challenging for older children by giving them fewer icebergs. It could also be easily adapted to other scenarios like using stones to cross a river in a jungle.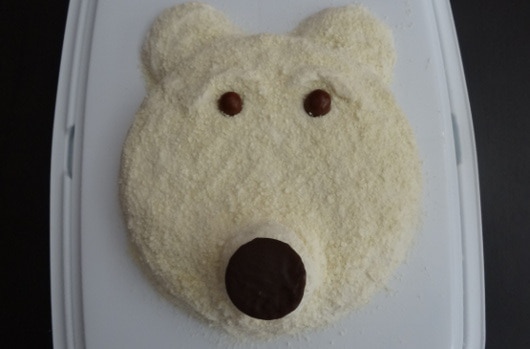 After doing the two activities it was time for the cake. I found the perfect polar bear cake
here
! It was very easy to do, although the 9-inch pan that I used instead of the 8-inch suggested made the proportions look a little off.
I did make a few changes to the recipe that I think worked out well. First, I used canned icing instead of making it from scratch, which worked fine. Second, I didn't want to use coconut, so I used finely grated white chocolate for the fur. Third, I used Whoppers instead of Milk Duds for the eyes. I also made sure to bring extra chocolate-covered Oreos and Whoppers to the party so each child could have one. Otherwise I think the kids would have fought over them!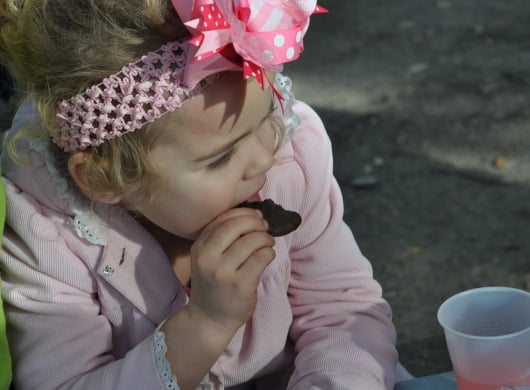 For the party favors I made polar bear shaped chocolates and favor bags.
I bought polar bear shaped chocolate molds and white chocolate melting wafers. After melting the wafers in the microwave I poured them into the mold, left the mold in the refrigerator for 10-15 minutes, then popped the chocolates out of the mold before starting the next set.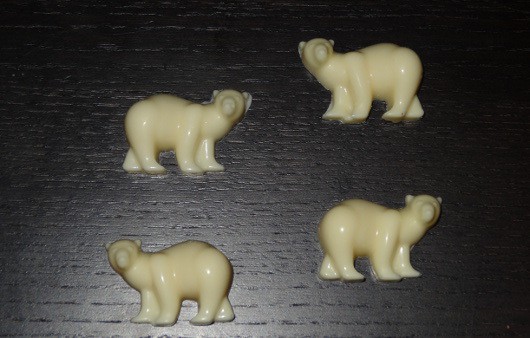 Once they were done I put the chocolates into fold top sandwich bags and used twisty ties to keep them closed. I also used the twisty ties to attach a hole-punched note saying
"Thank you beary much for coming to my party!"
. I put the chocolates, along with a few Polar Bear
stickers
and
stamps
, into the homemade favor bags (post
here
!) and the kids loved it!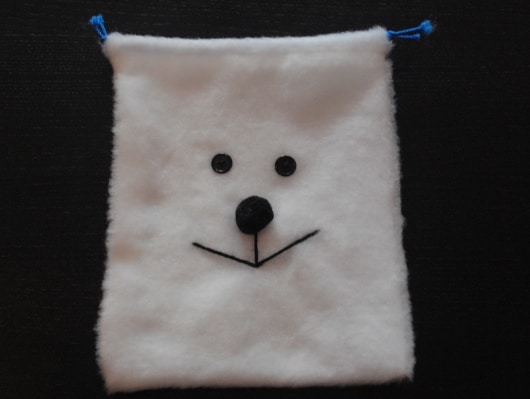 Overall I think the party was a great success and the kids enjoyed "chilling out" with us polar bear style!
Sample Polar Bear Facts:
Fact #1: Polar bears look white to provide camouflage in the snow and ice, but their skin is actually black. This helps the bears to absorb heat.
Fact #2: The scientific name for the polar bear is Ursus maritimus. They are known as nanook to the Inuit, ours blanc or ours polaire in French, oso blanco in Spanish, beliy medved in Russian, and shirokuma in Japanese.
Fact #3: Seals are the main prey of polar bears. The fat from the seals is the highest calorie food source available to them. Polar bears usually hunt by waiting for seals to surface to breathe at openings in the ice.
Fact #4: Polar bears live in the Arctic. They do not live in Antarctica, which is where penguins live.
Sample Polar Bear Quiz:
1. What color is a polar bear's skin?
A. Blue
B. White
C. Black
D. Grey
2. The scientific name for the polar bear is:
A. Polarus bearus
B. Ursus maritimus
C. White bear
D. Sea bear
3. Polar bears most often eat:
A. Fish
B. Whales
C. Seals
D. Cheeseburgers
4. True or False: Polar bears can often be found near groups of penguins.