Things to do in Houston today and this weekend, with kids! December 12, 13, 14, 15, 16, 17, 18, 2013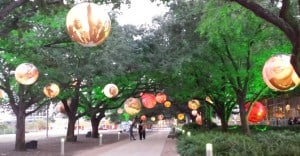 Happy Holidays Houston!  Our city has a lot going on all year long, but the events list is especially long and festive in December!  Don't get overwhelmed by the list… just scan through for a fun event, a good day and time or the best location.  Then go have some fun with the family!
I've highlighted some of my favorite events here and full list is below.
After Free Museum Day on Thursday, head to Market Square Park for Blanket Bingo, Tacky Sweater Edition!  Wear your tackiest Christmas sweater and play some family friendly Bingo.
While in Market Square Park, find the giant Mistletoe and snap a picture!  The 150-inch ball of mistletoe, hanging from a 15-foot giant candy cane won't be hard to find!
Take a Christmas Cruise on Buffalo Bayou on Friday and Saturday.  No reservations are needed, just show up for a 30 minute ride.  Kids just need to be 4 or older.  On Saturday and Sunday, head downtown for the Heritage Society Candlelit Tour.
Also, Zoo Lights, the Hermann Park Holiday Train and the Ice at Discovery Green are open for the season.  I especially love these events.
Be sure to catch the kid-friendly holiday shows around town.  The Best Christmas Pageant Ever is at Main Street Theater, All of the Other Reindeer is at InterActive Theater and A Gotcha' Christmas is at Express Theatre.  Our (rave) review of The Best Christmas Pageant is HERE.
Want to have an Early American Christmas?  Head to Bayou Bend for Festive Family Friday where the beautiful house museum is ready to welcome families for some holiday fun.
Just outside of Houston, you can find the German Christmas Festival in Tomball and Home for the Holidays in Old Town Spring.
Look below for the full list of events and go HERE to get it delivered to your inbox each week.
Thursday,  December 12, 2013:
Free Museum Entry
Children's Museum of Houston – FREE Thursday 5:00-8:00pm
The Health Museum – FREE Thursday 2:00-5:00pm
The John C. Freeman Weather Museum – FREE Thursday 12:00-4:00pm
Houston Museum of Natural Science – FREE Thursdays 3:00-6:00pm
The Museum of Fine Arts, Houston – FREE Thursdays 10:00-9:00pm
Junior Scientists: Mushrooms & Fungi – 4:00-5:30pm – Nature Discovery Center
Blanket Bingo: Tacky Sweater Edition! – 6:00-9:00pm – Market Square Park
Festival of Lights – 6:00-10:00pm – Moody Gardens
Zoo Lights – 6:00-10:00pm – Houston Zoo  (Use Code WINTER for $5 Off!)
Hot Nights on Ice – 7:00-10:00pm – Discovery Green
Friday, December 13, 2013:
Ice at Discovery Green – Discovery Green
Little Art Adventures – 10:30-11:30am – Museum of Fine Arts Houston
Glassell Student Art Sale – 12:00-8:00pm – Glassell School of Art (MFAH)
Holiday Train – 5:00-6:00pm – Hermann Park
Festive Family Fridays – 5:00-7:00pm – Bayou Bend
Christmas Cruises on Buffalo Bayou – 5:00-7:30pm – Allen's Landing (Tours ever 30 minutes)
German Christmas Festival – 6:00-10:00pm – Tomball
Festival of Lights – 6:00-10:00pm – Moody Gardens
Zoo Lights – 6:00-10:00pm – Houston Zoo
Friday Night Flicks on Ice: National Lampoon's Christmas Vacation – 6:30pm – Discovery Green
Saturday, December 14, 2013:
Ice at Discovery Green – Discovery Green
Home for the Holidays – Old Town Spring
Breakfast with Santa – 8:00-10:00pm – Downtown Aquarium
Urban Harvest Farmer's Market – 8:00-12:00pm – Eastside (1 block north of Richmond)
Flo & Wendell Signing by William Wegman – 10:00am – Brazos Bookstore
Gingerbread Build Off – 10:00am – City Hall
German Christmas Festival – 10:00-10:00pm – Tomball
Hermann Park Holiday Party – 10:00-2:00pm – Hermann Park Kinder Station
Free Unlimited Train Rides for Members – 10:00-5:00pm – Hermann Park
Glassell Art Sale – 10:00-5:00pm – Glassell School of Art (MFAH)
Young Writer's Workshop – 10:30am – Discovery Green
All of the Other Reindeer – 11:00am – InterActive Theater
Main Street Theater Christmas Party – 11:45pm – Main Street Theater
Best Christmas Pageant Ever – 10:30, 1:00 & 4:00pm – Main Street Theater
Basic Electronics: Soldering – 1:00-2:30pm – Brightwork CoResearch
A Gotcha' Christmas – 2:00pm – Express Theatre
Skate with Santa – 4:00-5:00pm – Discovery Green
Holiday Train – 5:00-6:00pm – Hermann Park
Christmas Cruises on Buffalo Bayou – 5:00-7:30pm – Allen's Landing (Tours ever 30 minutes)
The Grinch Plus Christmas Pop Sing-Along – 5:30-10:00pm – Market Square Park
Christmas Boat Parade – 6:00pm – Kemah Boardwalk
Lights in the Heights – 6:00-9:00pm – Houston Heights
Festival of Lights – 6:00-10:00pm – Moody Gardens
Heritage Society Candlelight Tour – 6:00-10:00pm – Sam Houston Park
Zoo Lights – 6:00-10:00pm – Houston Zoo
Sunday, December 15, 2013:
Ice at Discovery Green – Discovery Green
Home for the Holidays – Old Town Spring
Breakfast with Santa – 8:00-10:00pm – Downtown Aquarium
German Christmas Festival – 10:00-6:00pm – Tomball
Jingle Bell Run – 11:00am – Downtown Houston
Urban Harvest Farmer's Market – 11:00-3:00pm – Eastside (1 block north of Richmond)
Holiday Family Friend – 12:30-4:00pm – Museum of Fine Arts
Bayou Bend Family Day – 1:00-5:00pm – Bayou Bend Collection
Heritage Society Candlelight Tour – 4:00-8:00pm – Sam Houston Park
Holiday Train – 5:00-6:00pm – Hermann Park
Festival of Lights – 6:00-10:00pm – Moody Gardens
Zoo Lights – 6:00-10:00pm – Houston Zoo
Monday, December 16, 2013:
Ice at Discovery Green – Discovery Green
Cheap Skate Nights – 4:00-10:00pm – Discovery Green
Festival of Lights – 6:00-10:00pm – Moody Gardens
Zoo Lights – 6:00-10:00pm – Houston Zoo
Tuesday,  December 17, 2013:
Ice at Discovery Green – Discovery Green
Curious Kids Preschool Science Class: Holiday Crafts – 10:00-11:15am – Nature Discovery Center
Festival of Lights – 6:00-10:00pm – Moody Gardens
Zoo Lights – 6:00-10:00pm – Houston Zoo
Jazz on Ice – 7:00-10:00pm – Discovery Green
Wednesday, December 18, 2013:
Ice Rink Closed Today – Discovery Green
City Hall Farmers Market – 11:00-1:30pm – City Hall Downtown
Festival of Lights – 6:00-10:00pm – Moody Gardens
Zoo Lights – 6:00-10:00pm – Houston Zoo