Brazos Bookstore $15 Giftcard Giveaway!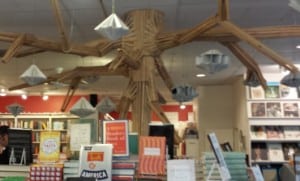 You know I love Brazos Bookstore.  Nothing beats the local bookstore when it comes to finding the perfect book.  The friendly staff can make recommendations and find exactly what you need.
You can walk in and say you need a book for a adventurous 5 year old that is just learning to read, and walk out with just the right book.  (Or shy 7 year old, girlie 12 year old, techie 15 year old, hard-to-buy-for girl friend or anyone at all.)
To help with your holiday shopping, I'm giving away a $15 Brazos Bookstore Giftcard this week!
Fill in the form here or below by Thursday night.  The shop is located at 2421 Bissonnet Street, Houston, TX 77005 and the giftcard can only be used IN STORE (not online).
One person will win a $15 Giftcard to Brazos Bookstore at 2421 Bissonnet Street, Houston, TX 77005
Giveaway closes on December 12, 2013
Official Rules:  http://wp.me/P2efXF-4DQ