BigKidSmallCity's Favorite Houston Events for this Weekend: December 12-18, 2013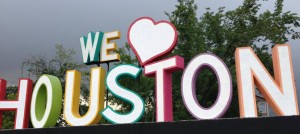 Happy Holidays Houston!  I'm back with my audio clip of favorite things to do in Houston.
Last week I told you I was terrified of this post each week.  Making the recording gets me all flustered and I have to try several times to get it right.  I've given this a lot of thought because I'm not scared of talking in front of a hundred people, yet I can't talk into a recorder.
I think it is because in front of people, I can gauge reactions and modify my message.  With a recorder, my message is just what it is.
Thinking more, I the whole blog is like that.  Without comments or feedback, I can't modify my message.  So please leave me comments on posts, Facebook or Twitter!
Now for my recording!  Let me give you my best delivery of my favorite events for the weekend.  I hope it helps you plan your weekend!
Listen to my favorite events for the weekend of December 6, 2013. For the full list of weekend events, go HERE!