Things to do in Houston today and this Veteran's Day weekend, with kids! November 7, 8, 9, 10, 11, 12, 13, 2013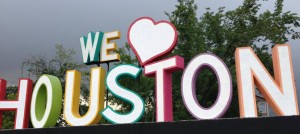 Another week, another list of things to do in Houston!  Here are the events for Thursday, November 7 to Wednesday, November 13!
This weekend brings the 1st Thursday and 2nd Saturday of the month.  That means that on Thursday you can Eat, Shop and Rock on Mid-Main.  Visit the restaurants and shops on this section of Main Street, at the Ensemble/HCC METRORail stop, and a percentage of sales will help  Inprint inspire young.
This Saturday, Hermann Park Conservancy Members can ride the train, all day, for free!  Memberships are $50 a year and support a great park.  Also on Saturday, kids and parents can Run the Park in the 1K and 5K races.
All weekend long, Phoenicia Foods is celebrating their 30th anniversary and is giving out free cupcakes.  Grab one at the Downtown location (or West Houston) and head to Discovery Green next door.
At Discovery Green, participate in the Young Writer's Workshop or one of their many other events.
This weekend also brings Neighborhood Toy Store Day at Fundamentally Toys.  It will include educational programs with exotic animals at 11:00am, balloon artists from 12:00 to 3:00 and more.  You will also find the Old Fashioned Art Fair at Foelber Pottery.  There will be hands-on fun for all ages!
It's hard to believe, but this weekend, Home for the Holidays opens in Old Town Spring.  A visit to this old railroad town is sure to get you ready for the holidays (and inspired to take down your Halloween decorations).
If you can find a babysitter, check out "Stick 'Em Up!" and "VIGILANTE VIGILANTE" on Saturday at Orange Show.  These films are about the artists behind street art and those that oppose them.  "Stick 'Em Up!" is directed by Houstonian Alex Luster!
Honor our Veterans with celebrations and a parade on Monday.  The Veteran's Day Parade and other events can be found near City Hall.
For more Houston events, look below!   To get this list in a free weekly email, sign up HERE!
Thursday,  November 7, 2013:
Nutcracker Market – 10:00-8:00pm – Reliant
The Bully Show – 10:30am- AD Players
Free Museum Entry
Children's Museum of Houston – FREE Thursday 5:00-8:00pm
The Health Museum – FREE Thursday 2:00-5:00pm
The John C. Freeman Weather Museum – FREE Thursday 12:00-4:00pm
Houston Museum of Natural Science – FREE Thursdays 3:00-6:00pm
The Museum of Fine Arts, Houston – FREE Thursdays 10:00-9:00pm (Includes 1st Thursday Sketching)
Junior Scientists: Animal Skeletons – 4:00-5:30pm – Nature Discovery Center
First Thursday Sketching – 4:00-7:00pm – Museum of Fine Arts
Eat Shop Rock at Mid-Main – 5:00-10:00pm – Mid-Main
Friday, November 8, 2013:
Free Cupcakes! – While Supplies Last – Phoenicia Downtown & West Houston
Nutcracker Market – 10:00-8:00pm – Reliant
Musiqa: Time Travel – 7:30pm – Market Square Park
Friday Night Films: Garbage Pail Kids – 8:00pm – Whole Foods Montrose
Saturday, November 9, 2013:
Home for the Holidays Opens – Old Town Spring
Free Cupcakes! – While Supplies Last – Phoenicia Downtown & West Houston
Run the Park – 8:00am – Hermann Park
Urban Harvest Farmer's Market – 8:00-12:00pm – Eastside (1 block north of Richmond)
PT for Post Traumatic Stress Disorder – 10:00-2:00pm – Discovery Green
Free Unlimited Train Rides for Members – 10:00-5:00pm – Hermann Park Kinder Station
Model Boat Rentals – 10:00-5:00pm – Discovery Green
Nutcracker Market – 10:00-6:00pm – Reliant
Young Writers Workshop – 10:30am – Discovery Green
The Bully Show – 10:30am & 1:00pm- AD Players
Neighborhood Toy Store Day – 11:00-4:00pm – Fundamentally Toys
Old Fashioned Art Fair – 11:00-5:00pm – Foelber Pottery
Kayak Boat Rides on Kinder Lake – 11:00-5:00pm – Discovery Green
Jon Cleary – 8:00pm – Market Square Park
"Stick 'Em Up!" and "VIGILANTE VIGILANTE" – 7:00-10:30pm – Orange Show
Sunday, November 10, 2013:
Home for the Holidays – Old Town Spring
Free Cupcakes! – While Supplies Last – Phoenicia Downtown & West Houston
Model Boat Rentals – 10:00-5:00pm – Discovery Green
Nutcracker Market – 10:00-6:00pm – Reliant
Urban Harvest Farmer's Market – 11:00-3:00pm – Eastside (1 block north of Richmond)
Kayak Boat Rides on Kinder Lake – 11:00-5:00pm – Discovery Green
Family Zone: Exploring Stories in American Art – 1:00-4:00pm – Museum of Fine Arts
Monday, November 11, 2013:
Free Train Rides for Veterans – 10:00-4:30pm – Hermann Park
Veteran's Day Ceremony – 11:00am – City Hall Downtown
American Heros Parade – 12:30pm – City Hall Downtown
Tuesday,  November 12 2013:
Curious Kids Preschool Science Class: Squeaky Squirrels – 10:00-11:15am – Nature Discovery Center
Wednesday, November 13, 2013:
City Hall Farmers Market – 11:00-1:30pm – City Hall Downtown