Things to do in Houston today and this Thanksgiving weekend, with kids! November 28, 29, 30, December 1, 2, 3, 4, 5, 2013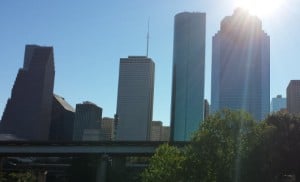 Happy Thanksgiving!  Here are the Houston events for Thanksgiving Thursday through Thursday, December 5.  Scan the list and either look for an event that looks fun, a time that works with your schedule, or a location that works for you.  Just don't get overwhelmed by all the things there are to do in Houston!
We are really excited for the Ice at Discovery Green.  Monday means Cheap Skate Monday, where $5 covers skates and admission.  And, mom doesn't have to skate if she doesn't want to.  I usually use the baby as an excuse to stay on dry ground while the bigger kids use the toddler practice area or brave the big rink on their doubled bladed skates.
Zoo Lights has started and has become a family tradition.  We plan to see the zoo at night this week.
If you have a little one and want to meet other Houston parents, check out Mommy Mingle at the Children's Museum.  The babies play in the Tot Spot while the parents mingle.
On Thanksgiving Day, catch the parade in the morning, ice skating in the afternoon and the zoo in the evening!
For a list of Chanukah Events around Houston, go HERE.  For a list of Christmas events around Houston, go HERE.  And, to get everything to your inbox each week, go HERE!
THANKSGIVING Thursday,  November 28, 2013:
Turkey Trot – 7:00am – Galleria 
Thanksgiving Day Parade – 9:00am – Downtown
Ice at Discovery Green – 11:00-11:00pm – Discovery Green
Uptown Holiday Lighting – 4:00-7:00pm – Post Oak Rd
Zoo Lights – 6:00-10:00pm – Houston Zoo
Hot Nights on Ice – 7:00-10:00pm – Discovery Green
Friday, November 29, 2013:
Ice at Discovery Green – Discovery Green
Best Christmas Pageant Ever – 10:00am – Main Street Theater
Santa Meet & Greet – 12:00pm – Children's Museum
Pop Shop Houston (Shopping, Storytime & More) – 12:00-8:00pm – Silver Street Studios
Holiday Train – 5:00-6:00pm – Hermann Park
Holiday Evening Open House – 5:00-8:00pm – Bayou Bend
Zoo Lights – 6:00-10:00pm – Houston Zoo
Friday Night Flicks at the Ice: It's A Wonderful Life – 6:30pm – Discovery Green
Saturday, November 30, 2013:
Ice at Discovery Green – Discovery Green
Home for the Holidays Opens – Old Town Spring
Family Concert: Christmas for Kids – 10:30am – St. Paul's Church
Young Writers Workshop – 10:30am – Discovery Green
Reptiles & Raptors – 11:00, 12:30, 2:00, 3:30pm – Houston Arboretum
Menorah Lighting at City Hall – 7:30pm – City Hall
Urban Harvest Farmer's Market – 8:00-12:00pm – Eastside (1 block north of Richmond)
Pop Shop Houston (Shopping, Storytime & More) – 12:00-8:00pm – Silver Street Studios
Best Christmas Pageant Ever – 1:00 & 4:00pm – Main Street Theater
Holiday Train – 5:00-6:00pm – Hermann Park
Zoo Lights – 6:00-10:00pm – Houston Zoo
Sunday, December 1, 2013:
Ice at Discovery Green – Discovery Green
Home for the Holidays – Old Town Spring
Urban Harvest Farmer's Market – 11:00-3:00pm – Eastside (1 block north of Richmond)
Art Improv – 1:00-4:00pm – Museum of Fine Arts
Chanukah Extravaganza – 3:33pm – Bellaire Jewish Center
ERJCC Hanukkah Baloon Blast – 4:30pm – Evelyn Rubenstein Jewish Community Center
Holiday Train – 5:00-6:00pm – Hermann Park
Zoo Lights – 6:00-10:00pm – Houston Zoo
Monday, December 2, 2013:
Ice at Discovery Green – Discovery Green
Cheap Skate Nights – 4:00-10:00pm – Discovery Green
Zoo Lights – 6:00-10:00pm – Houston Zoo
Tuesday,  December 3, 2013:
Ice at Discovery Green – Discovery Green
Curious Kids Preschool Science Class: Prehistoric Animals – 10:00-11:15am – Nature Discovery Center
Zoo Lights – 6:00-10:00pm – Houston Zoo
Film Screening: Listen – 7:00pm – Christ Church Cathedral
Jazz on Ice – 7:00-10:00pm – Discovery Green
Wednesday, December 4, 2013:
Ice at Discovery Green – Discovery Green
Mommy Mingle – 10:00-12:00pm – Children's Museum
City Hall Farmers Market – 11:00-1:30pm – City Hall Downtown
Latin Night on Ice – 6:00-10:00pm – Discovery Green
Zoo Lights – 6:00-10:00pm – Houston Zoo
Galleria Menorah Lighting – 6:30pm – Galleria
Thursday,  December 5, 2013:
Free Museum Entry
Children's Museum of Houston – FREE Thursday 5:00-8:00pm
The Health Museum – FREE Thursday 2:00-5:00pm
The John C. Freeman Weather Museum – FREE Thursday 12:00-4:00pm
Houston Museum of Natural Science – FREE Thursdays 3:00-6:00pm
The Museum of Fine Arts, Houston – FREE Thursdays 10:00-9:00pm (Includes 1st Thursday Sketching)
Junior Scientists: Animal Families – 4:00-5:30pm – Nature Discovery Center
First Thursday Sketching – 4:00-7:00pm – Museum of Fine Arts Houston
Eat Shop & Rock Benefiting The Orange Show – 5:00-11:00pm – Mid-Main
Festival of Lights – 6:00-10:00pm – Moody Gardens
Zoo Lights – 6:00-10:00pm – Houston Zoo