Things to do in Houston today and this Thanksgiving weekend, with kids! November 21, 22, 23, 24, 25, 26, 27, 28, 29, 30, December 1, 2013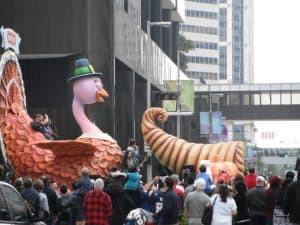 I'm posting the list of Houston events, for the week of Thanksgiving, early so you can make your plans!  Do you have family coming town?  Will you be on your own?  Whatever the case, there is plenty to keep you entertained in Houston!
On Thanksgiving Day, head downtown for the annual Thanksgiving Parade!
I also am very excited for the opening of Zoo Lights and the Ice at Discovery Green.  And last year at the Lighting of the Doves in The Woodlands, not only was there snow, but there was sledding!
The Best Christmas Pageant Ever is at Main Street Theater.  You can catch the Saturday shows or the special black Friday matinee.
Also on Black Friday, you can skip the mall and head to Pop Shop Houston instead.  Here you will find local vendors and activities for the kids!
On the same evening, head to Bayou Bend for a family friendly Open House.
Finally, thanks to Rachel from Oogiah for the Chanukah events around town!
For the full list of Houston events, look below!  To get Houston events delivered to your inbox each week, go HERE!
Thursday,  November 21, 2013:
Free Museum Entry 
Children's Museum of Houston – FREE Thursday 5:00-8:00pm
The Health Museum – FREE Thursday 2:00-5:00pm
The John C. Freeman Weather Museum – FREE Thursday 12:00-4:00pm
Houston Museum of Natural Science – FREE Thursdays 3:00-6:00pm
The Museum of Fine Arts, Houston – FREE Thursdays 10:00-9:00pm
Junior Scientists: Venomous & Poisonous – 4:00-5:30pm – Nature Discovery Center
Member Preview of Zoo Lights – 6:00-10:00pm – Houston Zoo
Friday, November 22, 2013:
Ice at Discovery Green Opens! – Discovery Green
Little Art Adventures – 10:30-11:30am – Museum of Fine Arts Houston
Zoo Lights – 6:00-10:00pm – Houston Zoo
Saturday, November 23, 2013:
Ice at Discovery Green – Discovery Green
Home for the Holidays – Old Town Spring
Urban Harvest Farmer's Market – 8:00-12:00pm – Eastside (1 block north of Richmond)
Walk on the Wild Side – 10:00am – Nature Discovery Center
Via Colori Street Painting Festival – 12:00-6:00pm – Downtown at City Hall (Delayed to noon start due to weather)
Best Christmas Pageant Ever – 1:00 & 4:00pm – Main Street Theater
Lighting of the Doves – 3:00-9:00pm – The Woodlands
Skate with Santa – 4:00-5:00pm – Discovery Green
Zoo Lights – 6:00-10:00pm – Houston Zoo
Sunday, November 24, 2013:
Ice at Discovery Green – Discovery Green
Home for the Holidays – Old Town Spring
Via Colori Street Painting Festival – 10:00-6:00pm – Downtown at City Hall
 Urban Harvest Farmer's Market – 11:00-3:00pm – Eastside (1 block north of Richmond)
Family Zone: Exploring Stories in American Art – 1:00-4:00pm – Museum of Fine Arts
Fire and Ice Carnival (rescheduled)- 4:00-8:00pm – Discovery Green
Zoo Lights – 6:00-10:00pm – Houston Zoo
Monday, November 25, 2013:
Ice at Discovery Green – Discovery Green
Zoo Lights – 6:00-10:00pm – Houston Zoo
Jazz on Ice – 7:00-10:00pm – Discovery Green
Tuesday,  November 26 2013:
Ice at Discovery Green – Discovery Green
Curious Kids Preschool Science Class: Animals Underground – 10:00-11:15am – Nature Discovery Center
Zoo Lights – 6:00-10:00pm – Houston Zoo
Wednesday, November 27, 2013:
Ice at Discovery Green – Discovery Green
City Hall Farmers Market – 11:00-1:30pm – City Hall Downtown
Santa Meet & Greet – 1:00pm – Children's Museum
Celebrate Hanukkah with the Rockets – 5:00pm – Toyota Center
Latin Night on Ice – 6:00-10:00pm – Discovery Green
Zoo Lights – 6:00-10:00pm – Houston Zoo
THANKSGIVING Thursday,  November 28, 2013:
Turkey Trot – 7:00am – Galleria
Thanksgiving Day Parade – 9:00am – Downtown
Ice at Discovery Green – 11:00-11:00pm – Discovery Green
Uptown Holiday Lighting – 4:00-7:00pm – Post Oak Rd
Zoo Lights – 6:00-10:00pm – Houston Zoo
Hot Nights on Ice – 7:00-10:00pm – Discovery Green
Friday, November 29, 2013:
Ice at Discovery Green – Discovery Green
Best Christmas Pageant Ever – 10:00am – Main Street Theater
Santa Meet & Greet – 12:00pm – Children's Museum
Pop Shop Houston (Shopping, Storytime & More) – 12:00-8:00pm – Silver Street Studios
Holiday Train – 5:00-6:00pm – Hermann Park
Holiday Evening Open House – 5:00-8:00pm – Bayou Bend
Zoo Lights – 6:00-10:00pm – Houston Zoo
Friday Night Flicks at the Ice: It's A Wonderful Life – 6:30pm – Discovery Green
Saturday, November 30, 2013:
Ice at Discovery Green – Discovery Green
Home for the Holidays Opens – Old Town Spring
Family Concert: Christmas for Kids – 10:30am – St. Paul's Church
Young Writers Workshop – 10:30am – Discovery Green
Reptiles & Raptors – 11:00, 12:30, 2:00, 3:30pm – Houston Arboretum
Menorah Lighting at City Hall – 7:30pm – City Hall
Urban Harvest Farmer's Market – 8:00-12:00pm – Eastside (1 block north of Richmond)
Pop Shop Houston (Shopping, Storytime & More) – 12:00-8:00pm – Silver Street Studios
Best Christmas Pageant Ever – 1:00 & 4:00pm – Main Street Theater
Holiday Train – 5:00-6:00pm – Hermann Park
Zoo Lights – 6:00-10:00pm – Houston Zoo
Sunday, December 1, 2013:
Ice at Discovery Green – Discovery Green
Home for the Holidays – Old Town Spring
Urban Harvest Farmer's Market – 11:00-3:00pm – Eastside (1 block north of Richmond)
Art Improv – 1:00-4:00pm – Museum of Fine Arts
Chanukah Extravaganza – 3:33pm – Bellaire Jewish Center
ERJCC Hanukkah Baloon Blast – 4:30pm – Evelyn Rubenstein Jewish Community Center
Holiday Train – 5:00-6:00pm – Hermann Park
Zoo Lights – 6:00-10:00pm – Houston Zoo