Mayor Annise Parker, Houston Mayor, Tells Houston Kids what She Likes About Houston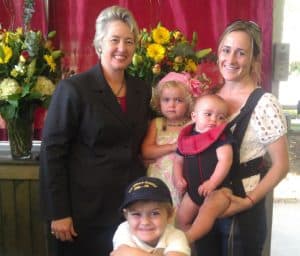 Houston is a big city but the more we know about it, the smaller it feels. In an effort to better understand the local government, the BigKidSmallCity crew spent the election season meeting the people involved.
Now we want to congratulate Mayor Annise Parker on her 3rd term as Houston Mayor!
The kids (ages 4-7) interviewed her to find out what she likes about Houston.  Read on to see what she thinks about our great city!
1.  What do you like to do in Houston?
I love to walk along Buffalo Bayou, go to baseball, basketball, soccer and football games, play with dogs and cats from the City's animal shelter/BARC and go to the zoo.  I love to work in my garden and to read, curled up on my couch at home.  I also love to drive the big machinery that tears down dangerous buildings.
2.  What is your favorite thing about Houston?
My favorite place is my own home.  The best thing about Houston is the wonderful people here from all over the world.
3.  What is your favorite Houston annual event?
I have several favorite events, including the Fourth of July celebration at Eleanor Tinsley Park, the Art Car Parade, and the Holiday Show in December.