Houston Thanksgiving Day Parade and Route Information – November 28, 2013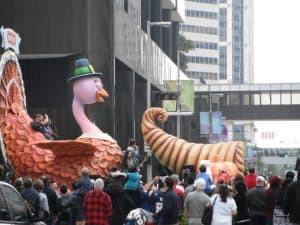 The Houston Thanksgiving Day Parade will be on Thursday, November 28, 2013, at 9:00am, in Downtown Houston!
Go HERE for the parade route!  The parade starts and stops near City Hall and the Central Library.  It goes up Smith, across Walker, down Milam to Pease and then back up Louisiana and Smith to Dallas.
Often times the east(ish) side by the train tracks is the most crowded.  If you can, try to get a spot on the west(ish) side of the street!
After the parade, head to Discovery Green for Ice Skating (startinga t 11:00am)!
For tips like these, in your inbox, sign up for the free weekly newsletter HERE!