Free Family Days at Rienzi & Bayou Bend on November 17 and December 15, 2013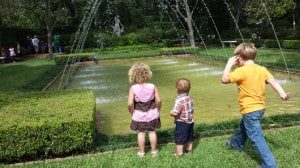 The Museum of Fine Arts Houston has 2 house museums: Rienzi and Bayou Bend.  Both have beautiful gardens and paths that are perfect for kids to explore.  These house museums will host free family days in November and December!
Sunday, November 17, 2013, from 1 to 5 p.m. at Bayou Bend and Rienzi
Sunday, December 15, 2013, from 1 to 5 p.m. at Bayou Bend
Rienzi, 1406 Kirby Drive (Free parking, but it is limited!  More parking on Lazy Lane in River Oaks.)
Bayou Bend Collection and Gardens, 6003 Memorial Drive at Westcott Street (Free parking.)
On November 17, both museum will be open and there will be transportation between the houses.  Families will find performances, art workshops, gallery games and a garden scavenger hunt on the grounds of Rienzi.  A Building Community-themed Family Day at Bayou Bend honors American citizenship with hands-on activities, live demonstrations and performances meant to teach about the country's earliest settlers.
Bayou Bend has another Family Day on December 15 which focuses on Historic Holidays in early America.