Wanda Adams, Candidate for HISD Trustee District IX, Interviewed by Houston Kids Ages 4-7 (Non-Political, Non-Partisan)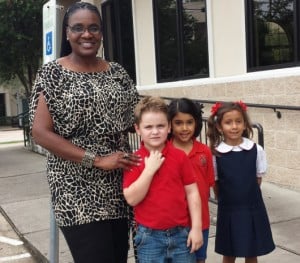 During this election season, BigKidSmallCity is getting to know the candidates in the City of Houston election.  Our goal in our non-partisan, non-political research is to help Houston kids better understand the political process.
This is not for political purposes or endorsement.  This is for kids.
Aylen (7), Joe (6), Senia (5) and Brooke (4) created the questions and I edited for clarity.  Below is the interview with Wanda Adams, Candidate for HISD Trustee District IX!
***
1.  What does the City Council do?
We are the governing body of the City of Houston.  We pass ordinances and resolutions that make the city work well.  We make sure that the streets are clean, that the sewers are clear, that we have green spaces and more. We work with the Mayor to pass the budget and make sure you receive city services.  It is a very cool job.  
2.  What does a HISD trustee do?
A HISD Trustee is a person that serves on the HISD board.  The job of the board is to manage HISD, meaning they responsible to building new schools, setting taxes and setting the budget.  The biggest job is to hire or fire the superintendent.  
3.  What do you do to get elected?
I am very engaged with the community.  I have 22 years of experience as a public servant which means the community knows me well and will recognize my name on the ballot.

4.  What do you like to do in Houston?
I am a big kid at heart.  I love going to the Houston Zoo, Hermann Park and Miller Outdoor Theatre in District D.  I like to go to the nice restaurants and I like to ride horses.  I even get to ride the mounted patrol sometimes and that is a lot of fun.
I am also a Political Science Professor at Texas Southern University.
5.  What is your favorite thing about Houston?
I was born here!  I also love the good food!
6.  What is your favorite Houston annual event?
I like the back to school fair in District D where we help provide immunizations and supplies to get our kids ready for school.  I also like to ride in the Thanksgiving Day Parade.
***
For kid-friendly reviews of the Houston City Elections, go HERE.
If you are a candidate and have not filled out a questionnaire or set up a meeting, please contact me at Jill @ BigKidSmallCity.com.