Things to do in Houston today and this weekend, with kids! October 3, 4, 5, 6, 7, 8, 9, 2013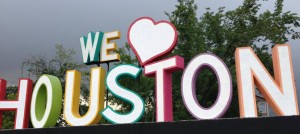 Fall has brought a lot of fun things to do in Houston!  Below is a list of Houston events for Thursday, October 3 through Wednesday, October 9, 2013.
The weekend starts strong on Thursday with free museum admission in the museum district.  This includes First Thursday Sketching at the Museum of Fine Arts.  Little artists can grab a clipboard, paper and pencils and sketch from 4:00-7:00pm.
Thursday evening brings the monthly Mid-Main Eat Shop Rock event with free live music, art shows and appetizer specials at The Continental Club, Shoeshine Charlie's Big Top, Tacos A Go-Go, Sig's Lagoon, My Flaming Heart, The Tinderbox, Double Trouble, The Alley Kat and Natachee's.  Five percent of the sales will go to Lawndale Art Center.
Stop by Mid-Main at 5:00pm and then jump on METRORail to Preston Station.  At Market Square Park you will find Blanket Bingo.  The event starts at 6:00pm and bingo starts at 7:00pm.
Friday is the last chance to see Strega Nona at Miller Outdoor Theatre, but use the remainder of the day to rest if you must, because Saturday full of events.
On Saturday, stop by the Houston Center for Contemporary Craft to make free Kirigami Halloween Decorations. Participants will learn how to create spooky paper cut-outs of a spider and spider web for Halloween decorations.
All Saturday afternoon you can stop by Project Row Houses  for the block party.  There will be food trucks, food vendors, craft/artist vendors, actives and live entertainment for the entire family.  Project Row Houses includes 40 properties used for artist exhibition, young mothers, artist residencies, office spaces, a community gallery, a park, low-income residential and commercial spaces.  Project Row Houses was founded "on the principle that art-and the community it creates-can be the foundation for revitalizing depressed inner-city neighborhoods".  We are very excited to celebrate their 20 year anniversary on Saturday.
On the same day, you can participate in the Bicycle Rally & Scavenger Hunt in the Houston Heights.  One of the rides is designed for kids.  The rally is open to riders of all ages, and designed as a casual self-paced ride.
My Saturday recap would not be complete without mentioning the Cat in the Hat at Main Street Theater.  We saw it last week and loved it.  Get your tickets fast because the shows are almost sold out!
And finally, on any day of the week, you can find local Farms that are open with corn mazes, hay rides, pumpkin patches and more.  Find the list HERE.
For the full list of Houston events, look at the long list below.
Thursday,  October 3, 2013:
Strega Nona – 11:00am – Miller Outdoor Theatre
Free Museum Entry
Children's Museum of Houston – FREE Thursday 5:00-8:00pm
The Health Museum – FREE Thursday 2:00-5:00pm
The John C. Freeman Weather Museum – FREE Thursday 12:00-4:00pm
Houston Museum of Natural Science – FREE Thursdays 3:00-6:00pm
The Museum of Fine Arts, Houston – FREE Thursdays 10:00-9:00pm (Includes 1st Thursday Sketching)
Junior Scientists: Animal Tracks & Signs – 4:00-5:30pm – Nature Discovery Center
First Thursday Sketching – 4:00-7:00pm – MFAH
Eat, Shop, Rock at Mid Main – 5:00-12:00am – Mid Main
Blanket Bingo – 6:00-9:00pm – Market Square Park
Thursday Concerts: Young Mammals and The Wheel Workers – 6:30pm – Discovery Green
Festival Chicano – 7:00pm – Miller Outdoor Theater
Farms and Ranches:
Old Mac Donald's Farm – 10:00am – Humble
Oil Ranch – 10:00-3:00pm – Hockley
Friday, October 4, 2013:
Strega Nona – 11:00am – Miller Outdoor Theatre
HPL Children's Book Sale – 11:00-6:00pm – Resurrection Metropolitan Community Church
Festival Chicano – 7:00pm – Miller Outdoor Theater
Farms and Ranches:
Oil Ranch – 10:00-3:00pm – Hockley
Old Mac Donald's Farm – 10:00am – Humble
Saturday, October 5, 2013:
Urban Harvest Farmer's Market – 8:00-12:00pm – Eastside (1 block north of Richmond)
Kids Clinic: Fire Rescue Plane – 9:00-12:00pm – Home Depot
Pumpkin Patch (Members Only) – 10:00-2:00pm – Houston Arboretum
HPL Children's Book Sale – 10:00-5:00pm – Resurrection Metropolitan Community Church
Model Boat Rentals – 10:00-5:00pm – Discovery Green
Young Writers Workshop – 10:30am – Discovery Green
Kids Klub – 10:00-2:00pm – The Breakfast Klub
Amanecer Colombiano – 11:00am – Miller Outdoor Theatre
Hands On Houston: Kirigami Halloween Decorations – 11:00-3:00pm – Houston Center for Contemporary Craft
Kayak Boat Rides on Kinder Lake – 11:00-5:00pm – Discovery Green
Free Block Party & 20 year Anniversary Party – 11:00-7:00pm – Project Row Houses
Creation Station: Near Eastern Paper Marbling – 1:00-3:00pm – Asia Society
Cat in the Hat – 1:00 & 4:00pm – Main Street Theater
Festival Chicano – 7:00pm – Miller Outdoor Theater
Screen on the Green:  Great Gatsby – 7:30pm – Discovery Green
Farms and Ranches:
Froberg Farms Corn Maze, Hay Rides, Pumpkin Patch – 9:00-dark – Alvin
Oil Ranch – 10:00-5:00pm – Hockley
Pumpkin Patch and Fall Festival at Blessington Farms – 10:00-5:00pm – Simonton
Dewberry Farm – 10:00am-Dusk – Brookshire
Old Mac Donald's Farm – 10:00am – Humble
Sunday, October 6, 2013:
Kayak Camp on Kinder Lake – 11:00-5:00pm – Discovery Green
Urban Harvest Farmer's Market – 12:00-4:00pm – Eastside (1 block north of Richmond)
Opening Weekend in the Studio – 1:00-4:00pm – MFAH
Bicycle Rally & Scavenger Hunt – 2:00-5:00pm – Houston Heights
Discover Dance – 2:00-5:00pm – Discovery Green
Sunday Outdoor Concert Series with WindSync – 3:00pm – Menil Collection
1000 Lights for Peace – 6:00pm – Miller Outdoor Theatre
Farms and Ranches:
Froberg Farms Corn Maze, Hay Rides, Pumpkin Patch – 9:00-dark – Alvin
Old Mac Donald's Farm – 10:00am – Humble
Oil Ranch – 12:00-5:00pm – Hockley
Dewberry Farm – 12:00pm-Dusk – Brookshire
Monday, October 7, 2013:
Farms and Ranches:
Old Mac Donald's Farm – 10:00am – Humble
Oil Ranch – 10:00-3:00pm – Hockley
Tuesday,  October 8, 2013:
Curious Kids Preschool Science Class: Spiders & their Kin – 10:00-11:15am – Nature Discovery Center
Toddler Tuesdays: Houston Astros  – 10:30am – Discovery Green
Farms and Ranches:
Old Mac Donald's Farm – 10:00am – Humble
Oil Ranch – 10:00-3:00pm – Hockley
Wednesday, October 9, 2013:
Swing, Jive and Pop! Into Dance – 11:00am – Miller Outdoor Theatre
City Hall Farmers Market – 11:00-1:30pm – City Hall Downtown
Rock-tober Lunchtime Concerts: Buxton – 11:30-1:00pm – Discovery Green
Farms and Ranches:
Old Mac Donald's Farm – 10:00am – Humble
Oil Ranch – 10:00-3:00pm – Hockley