Things to do in Houston today and this Halloween weekend, with kids! October 24, 25, 26, 27, 28, 29, 30, 31, 2013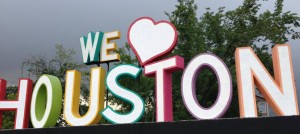 This week the events list covers Thursday, October 24 through Thursday, October 31, so we can include all the Halloween activities!
All weekend long, the Houston Zoo is hosting Zoo Boo.  On Saturday, the Orange Show has a family friendly Pumpkin Carving and Scary Mask Workshop, led by acclaimed artist Carter Ernst.  Also, kids ages 9-12 can participate in the Green Scream Workshop at Aurora Picture Show. Kids are invited to wear their costumes and create a short film about their character using green screen techniques.
Also on Saturday, the Houston Arboretum is hosting ArBOOretum.  In addition to learning about the trails and creatures, kids can decorate pumpkins, visit the petting zoo, ride a pony or take a hay ride.  On the same day, kids can wear costumes to Halloween Storytime at Brazos Bookstore.
On Halloween, there is Trick or Treating at the Monster's (Children's) Museum of Houston and Scream on the Green at Discovery Green.
If you are looking for more events, check out the last Saturday matinee of the The Story of the Lone Star State at InterActive Theater.  Also, the Touch a Truck event at First Methodist Downtown encourages kids to climb on all kinds of trucks, from fire trucks to dump trucks!
Be sure to check out all the local farms that are open for the season and look for the long list Houston events below!
Thursday,  October 24, 2013:
The Bully Show – 10:30am- AD Players
Free Museum Entry
Children's Museum of Houston – FREE Thursday 5:00-8:00pm
The Health Museum – FREE Thursday 2:00-5:00pm
The John C. Freeman Weather Museum – FREE Thursday 12:00-4:00pm
Houston Museum of Natural Science – FREE Thursdays 3:00-6:00pm
The Museum of Fine Arts, Houston – FREE Thursdays 10:00-9:00pm
Great Pumpkin Hunt – 4:00pm – Loftin Park in Bellaire
Junior Scientists: Animal Flight – 4:00-5:30pm – Nature Discovery Center
Thursday Concerts – 6:30pm – Discovery Green
Luis Bravo's Forever Tango – 7:30pm – Miller Outdoor Theatre
Farms and Ranches:
Old Mac Donald's Farm – 10:00am – Humble
Oil Ranch – 10:00-3:00pm – Hockley
Friday, October 25, 2013:
Zoo Boo – 9:00-1:00pm – Houston Zoo
The Bully Show – 10:30am- AD Players
Little Art Adventures 10:30-11:30am – Museum of Fine Arts Houston
Shabbat on the Green – 5:30-7:30pm – Discovery Green
Silent Film Concert – 7:30pm – Discovery Green
Luis Bravo's Forever Tango – 7:30pm – Miller Outdoor Theatre
Farms and Ranches:
Oil Ranch – 10:00-3:00pm – Hockley
Old Mac Donald's Farm – 10:00am – Humble
Saturday, October 26, 2013:
Wings Over Houston – 8:00am – Ellington Airport
Urban Harvest Farmer's Market – 8:00-12:00pm – Eastside (1 block north of Richmond)
Zoo Boo – 9:00-4:00pm – Houston Zoo
Touch a Truck – 10:00-2:00pm – First Methodist Downtown
Model Boat Rentals – 10:00-5:00pm – Discovery Green
ArBOOretum – 10:00-4:00pm – Houston Arboretum
The Bully Show – 10:30am & 1:00pm- AD Players
Young Writers Workshop – 10:30am – Discovery Green
The Story of the Lone Star State – 11:00am – InterActive Theater
Kayak Boat Rides on Kinder Lake – 11:00-5:00pm – Discovery Green
Halloween Storytime – 11:00am – Brazos Bookstore
Pumpkin Carving and Scary Mask Workshop – 11:00-2:00pm – Orange Show
Houston Margarita Festival – 12:00-10:00pm – Discovery Green
The Cat in the Hat – 1:00 & 4:00pm – Main Street Theater
Green Scream Workshop – 2:00-5:00pm – Aurora Picture Show
Tricks, Treats and T Rex – 2:00-5:00pm – Houston Museum of Natural Science Sugar Land
Smithsonian Jazz Masterworks Orchestra: A Tribute to Ella Fitzgerald – 7:30pm – Miller Outdoor Theatre
Farms and Ranches:
Froberg Farms Corn Maze, Hay Rides, Pumpkin Patch – 9:00-dark – Alvin
Oil Ranch – 10:00-5:00pm – Hockley
Pumpkin Patch and Fall Festival at Blessington Farms – 10:00-5:00pm – Simonton
Dewberry Farm – 10:00am-Dusk – Brookshire
Old Mac Donald's Farm – 10:00am – Humble
Sunday, October 27, 2013:
Wings Over Houston – 8:00am – Ellington Airport
Zoo Boo – 9:00-4:00pm – Houston Zoo
Model Boat Rentals – 10:00-5:00pm – Discovery Green
Urban Harvest Farmer's Market – 11:00-3:00pm – Eastside (1 block north of Richmond)
Kayak Boat Rides on Kinder Lake – 11:00-5:00pm – Discovery Green
Family Zone & Studio – Dancing Skeletons & the Day of the Dead – 1:00-4:00pm – Museum of Fine Arts Houston
Kokyo – Dialogue Between Hearts – 7:00pm – Miller Outdoor Theatre
Farms and Ranches:
Froberg Farms Corn Maze, Hay Rides, Pumpkin Patch – 9:00-dark – Alvin
Old Mac Donald's Farm – 10:00am – Humble
Oil Ranch – 12:00-5:00pm – Hockley
Dewberry Farm – 12:00pm-Dusk – Brookshire
Monday, October 28, 2013:
Farms and Ranches:
Old Mac Donald's Farm – 10:00am – Humble
Oil Ranch – 10:00-3:00pm – Hockley
Tuesday,  October 29, 2013:
Curious Kids Preschool Science Class: Marsupials & Monotremes – 10:00-11:15am – Nature Discovery Center
Toddler Tuesdays: Halloween Costume Contest – 10:30am – Discovery Green
Farms and Ranches:
Old Mac Donald's Farm – 10:00am – Humble
Oil Ranch – 10:00-3:00pm – Hockley
Wednesday, October 30, 2013:
The Bully Show – 10:30am- AD Players
Swing, Jive and Pop! Into Dance – 11:00am – Miller Outdoor Theatre
City Hall Farmers Market – 11:00-1:30pm – City Hall Downtown
Rock-tober Lunchtime Concerts: Kristine Mills – 11:30-1:00pm – Discovery Green
Farms and Ranches:
Old Mac Donald's Farm – 10:00am – Humble
Oil Ranch – 10:00-3:00pm – Hockley
Thursday,  October 31, 2013:
The Bully Show – 10:30am- AD Players
Free Museum Entry
Children's Museum of Houston – FREE Thursday 5:00-8:00pm
The Health Museum – FREE Thursday 2:00-5:00pm
The John C. Freeman Weather Museum – FREE Thursday 12:00-4:00pm
Houston Museum of Natural Science – FREE Thursdays 3:00-6:00pm
The Museum of Fine Arts, Houston – FREE Thursdays 10:00-9:00pm
Junior Scientists: Birds of Prey – 4:00-5:30pm – Nature Discovery Center
Trick or Treating & Activities at the Monster's Museum of Houston – 10:00-8:00pm – Children's Museum of Houston
Scream on the Green – 6:00-10:00pm – Discovery Green
Screen on the Green: Frankenweenie – 7:00pm – Discovery Green
Ring of Fire: The Museum of Johnny Cash – 7:30pm – Miller Outdoor Theatre