How to Make Ice Cream in a Bag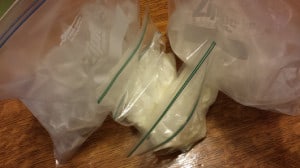 My oldest kid has been asking me to make ice cream for months. I was hoping he would either forget about it, let me buy ice cream from the store or grandma would come to save the day.
None of these things happened, so I searched the internet for easy ways to make ice cream…  where my kids could make it themselves.
For any project like this, I like the kids involved. One reason is because it is fun for them. The other is so no one is expecting mom to pull of some miracle in the ice cream department.
Fortunately I found that you can make ice cream in a sandwich bag and with easy to find ingredients.
You need:
Ice cubes to fill half a gallon sized bag
1 cup half and half (I read that milk will also work, but I did not try it.)
1/2 cup salt (We used table salt, but kosher or rock salt should work better.)
2 tablespoons sugar
1/2 teaspoon vanilla extract
1 pint-size heavy duty ziplock bag (We used 2 non-heavy duty bags and they still broke a little.)
1 gallon-size heavy duty ziplock bag
Combine the sugar, half and half, and vanilla extract in the pint-size bag and seal it tightly.
Put the salt and ice in the gallon-size bag, then place the sealed smaller bag inside as well. Seal the larger bag. Now shake the bags until the mixture hardens (about 5 minutes).
When the ice cream is firm, take the smaller bag out of the larger one, add candy or fruit if desired, and eat the ice cream right out of the bag. (Go HERE for more details.)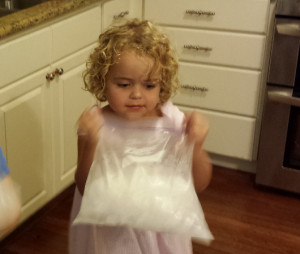 It looked easy, and it was.  I filled the bags and the kids shook like crazy for about 5 minutes.  The bags got a workout, so the heavy duty bags are highly recommended.
When we were tired and the ice cream was firm enough, we opened it up.  The kids added some chocolate chips and dug in.
Our ice cream was the consistency of a shake… but only because we were too excited to stop shaking and start eating.
The ice cream was really good.  And my kids declared me queen of the kitchen.
I'm now feeling so confident, I think I might even do this at a birthday party with dozens of wild preschoolers.  (I said might!)