Assata Richards, Candidate for Houston City Council District D, Interviewed by Houston Kids Ages 4-7 (Non-Political, Non-Partisan)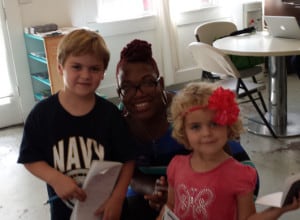 During this election season, BigKidSmallCity is getting to know the candidates in the City of Houston election.  Our goal in our non-partisan, non-political research is to help Houston kids better understand the political process.
This is not for political purposes or endorsement.  This is however, for kids.
Aylen (7), Joe (6), Senia (5) and Brooke (4) created the questions and I edited for clarity.  Below is the interview with Assata Richards, Candidate for Houston City Council District D!
***
1.  What does a city council member do?  
A city council member is like a parent, who is there to help take care of the needs of the city and the communities in the city.  If you need something, the city council member is there to listen and work to help you get what you need. She has to work with individuals and groups across the city to make sure our residents and our communities are well taken care of.
2.  What do you do to get elected?  
In order to get elected, City Council candidates have to work hard to earn the votes of residents in the city.  We talk to the voters in our district and we talk to different groups of people, like yours.  We need at least 51% of the people in our district to vote for us.  So, if there are 7 people here, 4 of them must vote for me, in order for me to win.
3.  What do you like to do in Houston?  
I like to spend time with family and friends, and I love going to fun places like Project Row Houses.
4.  What is your favorite thing about Houston?  
I like communities with history like 3rd ward and Sunnyside.
5.  What is your favorite Houston annual event?  
My favorite Houston event is the citywide Kwanzaa Celebration, lasting December 26 to January 1.
***
For kid-friendly reviews of the Houston City Elections, go HERE.
If you are a candidate and have not filled out a questionnaire or set up a meeting, please contact me at Jill @ BigKidSmallCity.com.