Why do we need local bookstores when we have the internet?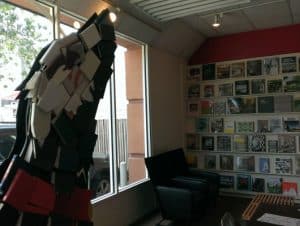 This is the question I asked Brazos Bookstore.
I buy many of my household products online and I can find books for cheap online.  So why on earth should I go to the local bookstore?
According to Mary at Brazos Bookstore, the short answer is this: what really differentiates bookstores from online stores is the fact that bookstores are a hub, a place to form relationships with your fellow book lovers, with booksellers, with community leaders, with local to international authors, and with the city in which the bookstore is located.
The long version is this:  bookstores and the booksellers in them work hard to provide a curated selection of books we love and want to promote. It is a booksellers job to listen to you and give personalized recommendations, to put a story in your hand that will brighten your day or make you think.
The great thing is, the more a bookseller gets to know you, the better they can point things out that you will like.
Bookstores also have the ability to forefront the work of smaller presses, so you're able to find amazing books that you might have otherwise missed.  I think people underestimate the power of a good browse, as corny as that sounds.
The physical space of a bookstore is also important. Communities need a place where people can gather to talk about books and attend programs like storytimes, book groups, community events, book-related celebrations and author readings. If authors don't support bookstores and only say their books are "Available Online" they unfortunately are not supporting the stores in which they might tour or the people who are hand selling their work.
Bookstores can also collaborate with other businesses in their community.  Brazos Bookstore often works with with local restaurants, food trucks, shops, schools, and other organizations and societies (like with Where's Waldo).
And finally, the Kindle is NOT your only option. Independent bookstores support an e-reader called the Kobo that allows you to support your local store by purchasing the e-books through a portal on the bookstore's website.
After hearing this, I promptly feel in love with local book stores.  And to make Brazos Bookstore even better, they offered to give BigKidSmallCity readers discounts on any books reviewed by Felicia!