Quick Weekend BigKidSmallCity Giveaway! Red Gold Tomato Care Package + Chance to Win a New Grill!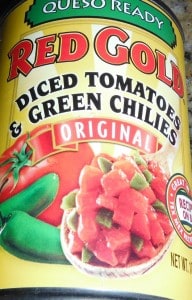 Red Gold sent me a variety pack of tomatoes AND they want to send you one too!  One BigKidSmallCity reader will have a Red Gold care package sent to their house!  AND you can enter to win a Green Egg Ceramic Grill & Smoker!  Read on to learn how to enter!
If you follow this blog, you know that I cannot cook.  I make cool school lunches for the kids and then excuse myself from any dinner time heroics.  But, Red Gold is is daring me to me to do more with dinner.
I "mastered" Red Gold Queso for the Super Bowl.  I know, I know, queso is not difficult.  But it did make my son dance.  Check out this video.  My very serious young man – the one who follows all rules and will absolutely not break the school dress code or participate in any Wacky Wednesday shenanigans –  got on his chair and sang, "Red Gold Queso Rocks".
Red Gold seems to think that I can repeat this performance again with the recipes below for Caribbean Chicken Burgers and Spicy Tomato Burgers.  (Granted, these will make Brooke dance and not Joe the Vegetarian!)
In addition, Red Gold is hosting a sweepstakes to celebrate the last part of summer and grilling — as it gives away a popular Green Egg Ceramic Grill & Smoker on August 30.   (This is separate from the BigKidSmallCity contest.  To enter this one, go HERE!)
To enter the BigKidSmallCity contest, you must:
1. Go to FACEBOOK and "Like" us.
2. Sign Up for the Free Weekend Events Newsletter. (On the right of the homepage.)
3.  Take THIS 5 minute survey. (If you already took the survey, that counts!)
4. Leave a comment on THIS POST 
On August 12, 2013 I will randomly select 1 winner using RANDOM.org.  Act quick!  This contest is quicker than most!
To enter the Red Gold contest for the grill, go HERE!
Recipes from Red Gold:
Spicy Tomato Burger
1 lb ground beef
1 14.5 oz can of Red Gold Tomato w/Green Chilies
Salt and Pepper
Option: Pepper Jack Cheese
Combine beef & tomatoes (drained). Form into patties. Season. Add cheese to center of each patty for an added kick. Grill.  As desired, serve on toasted bun. use Jalapeño Ketchup or Chipotle Mayo. Layer spicy peppers.
Caribbean Chicken Burger
1 lb. ground chicken
1 14.5 oz can of Red Gold Lime Juice & Cilantro
Salt & Pepper
Combine ground chicken and Red Gold tomatoes (drained). Form into patties. Season. Grill.  As desired, served on Toasted bun or lettuce. Layer guacamole or avocado or roasted pineapple slice. Top with a mango chutney or fruit salsa.