Movies for Kids to Watch – Mad Monster Party – BigKidSmallCity Movie Reviews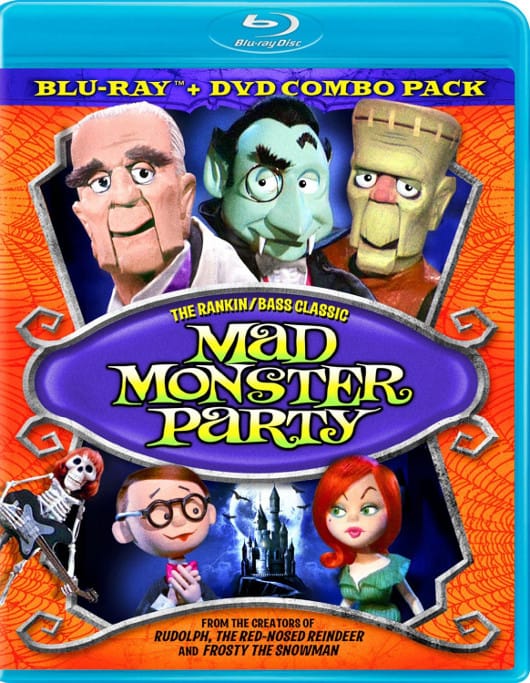 This is Felicia!   My girls and I love exploring Houston and we love to read.  And since it is the middle of summer, we're mixing things up a little.  This review is of a movie: Mad Monster Party
!
I really try to limit the amount of television my kids watch, but with summer here, we definitely catch up on some screen time.  A personal goal I have in mind when selecting movies for my kids is that when they are older, they will say, "My Mom made me watch some really interesting and unusual movies as a kid."
Mad Monster Party
is a movie that  I just added to our DVD collection for that very reason. Do you remember those holiday videos about Frosty the Snowman and Rudolph the Red Nose Reindeer? The ones with the choppy claymation? Well, from the very same creators, this Halloween special was made, shown in theaters for a minute and then was put to rest underneath Jack Frost and the other holiday videos.
Until recently, this classic musical film, starring Borris Karloff, had been forgotten, but with a free rental from Amazon Prime members and Netflix, it has made enough of a comeback to be re-released on DVD , Blu-ray and have other play merchandise made.  I, personally, am waiting for someone to make a  T Shirt.
My kids love this movie. It is wholesome enough to be enjoyed by the entire family with a few macabre scenes of skeletons dancing (Beatles parody) and the threat of a bomb that could destroy everything. The bomb, although scary, is an integral part of the plot. Dr. Frankenstein, voiced by the fabulous Karloff, is retiring and getting ready to name his successor. Who will inherit the formula to the bomb? In the elimination process, Abbott and Costello mischief abounds.
Will his replacement be his sneaky creation, the bride of Frankenstein, voiced by Phyllis Dyler? Or his nerdy nephew, Felix?  Either way, the Wolfman, Count Dracula, the Invisible Man, Dr. Jekyll and Mr. Hyde, the Creature from the Black Lagoon, the Hunchback of Notre Dame, The Mummy or Yetch, the Lurch like servent, will not be happy.
Go HERE
to add to your collection or watch it for free on Netflix or Amazon Prime. You will not be disappointed!