The $20 Surprise for Me and You + The Multiplication of Money.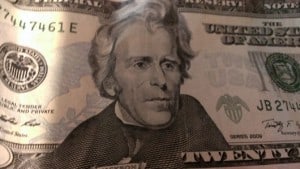 Read on to learn about James, the $20 surprise and what we will do with it…
This morning I was leaving HEB and I had Baby James pushing the cart with me. My preference is for him to ride in the cart, and his preference is to run in traffic, so this was a good compromise.
All was going well. James was listening and I don't think I looked too frazzled.
Just seconds after we were outside, a man came up, smiled, and handed James $20 and told him, "Thank you for helping mom.".
There was a time in my life that I would have refused or resisted the gift because I do not need $20. There are a lot of people that could use $20 more than me. I like having $20, but I will eat dinner without the gift.
But it is my belief now that we all have a need to help and give, and if I refuse a gift, I'm not allowing another person to give.
More than this, it is not my job to judge how people give. It is not up to me.
So I smiled warmly at the man and thanked him for the generous gift.
I really have no idea why we got the $20 bill this morning. But I do know that the gentleman was happy when he gave it to us. And although he did not know it at the time, his $20 has spurred more giving.
We plan to send our new $20 bill, plus a couple others, to Oklahoma Tornado victims.
And, more than this, I'll send you a $20 bill in hopes that you will make it multiply as well. If you comment on the post, I'll pick one person to get a $20 bill. No strings attached. Just a hope that you will make it multiply for good.