Firefighter Chief Richard Cole Interviewed by Firefighter-in-Training William at Walmart Steak-Over Challenge!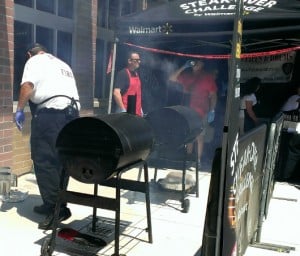 On May 4th, Firefighters Chief Richard Cole and Terry Vick dueled in the Walmart Steak-Over Challenge in the Houston Heights.  There to witness it all was our 7 year old Firefighter-in-Training, and BigKidSmallCity Reporter, William.

Local firefighters Chief Richard Cole from the Pipes and Drums and Terry Vick from the Honor Guard in Houston were competing in the Walmart Steak-Over Challenge presented by Kingsford® Charcoal, Dr. Pepper® and A.1.® steak sauce to determine who has the best steak-grilling chops in town.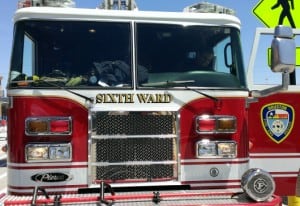 Right in front of Walmart were 2 smokey grills, free samples, 6 firetrucks, 3 fireman bagpipers and dozens of firefighters.  It was a kid's dream come true.
The BigKidSmallCity contest winner William had the opportunity to interview Chief Richard Cole while the steaks were cooking.  This young man had really thought through his questions.  Among others, he asked:
Up to what pressure can the fire hose handle?
How much does each firetruck tire weigh?
What hours do firefighters work?
What do you do at the fire station?
The hoses can handle well over 150 pounds and the tires way about ~400 pounds each.  Firefighters work form 6:30am to 6:30am the next day.  They eat and sleep at the fire station… and Chief Cole does a lot of paperwork!
You can see part of the interview here: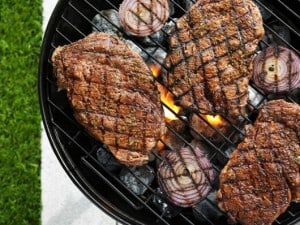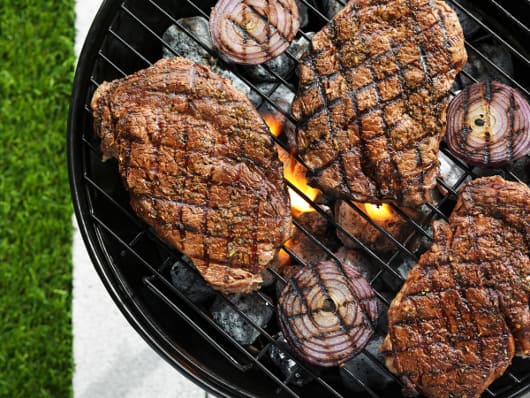 More video of William is below!
After the interview, and once the steaks were ready, attendees could grab a slice and cast their vote for best steak.  BigKidSmallCity picked the Italian Style Gilled Rib-Eyes from Pipes and Drums.  The recipe is below!
The Walmart Steak-Over Challenge will visit seven other cities, including Jacksonville, Fla., San Antonio, Texas, Tampa, Fla., Charlotte, N.C., Atlanta, GA., Kansas City, Mo., and Indianapolis, Ind. The firefighter finalist from each city will compete on behalf of their station for a $20,000 grand prize in Los Angeles, the week of May 20.
 Italian-Style Grilled Rib-eyes
 Makes:                       4 servings
Prep time:      10 minutes
Cook time:     10 minutes
YOU'LL NEED
3-4      Walmart Choice rib-eye steaks, about 24-32 ounces total
2          tablespoons Worcestershire sauce
¼         cup Italian dressing
1½       tablespoons McCormick® Grill Mates® Montreal® seasoning mix
Sea salt and ground black pepper, to taste
INSTRUCTIONS
In a shallow pan or large zip-top bag, mix the Worcestershire sauce and the Italian dressing together. Add the steaks and toss to coat well. Seal the bag or dish, and marinate in the refrigerator for 24 hours.
When ready to cook, prepare a charcoal grill for direct high heat (450-500 degrees F) using Kingsford® charcoal.
Remove the steak from the marinade and wipe off excess. Season on both sides with the seasoning mix, and add extra salt and pepper to taste.
Brush the cooking grates clean. Grill the steaks with the lid closed as much as possible, turning once or twice, until cooked to your desired doneness, 6 to 8 minutes for medium rare.  Remove steaks from the grill and let rest for 5 minutes before serving.
Recipe created by The Houston Fire Department Pipes and Drums on behalf of Walmart.