Operation Pets Alive! & Happy Birthday Pubah!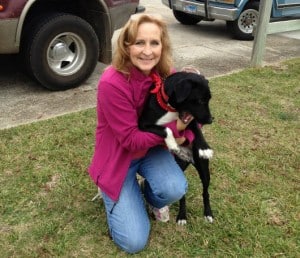 Happy Birthday to my Mom! My kids call her Pubah and are correct in thinking she is the best Pubah in the entire world.  Pubah is also the best friend to all living creatures.  Her passion is rescuing animals through Operation Pets Alive.
In honor of her birthday, let me tell you a little about Operation Pets Alive.
Texas has a very big number of shelter dogs but other places in the United States have a shortage of rescues to adopt.  The Houston area is currently saving 40-60% of homeless pets but shelters in the Northeast save 99.9% of homeless pets.  Operation Pets Alive organizes rescue flights, through Cloud Nine Rescue, for homeless dogs in the greater Houston area.
Without sponsorship the flights would not be possible. You can sponsor a dog for approximately $200 or a whole flight for $5,000.  Go HERE to donate any amount.
Once a month, volunteer opportunities include helping with getting animals vetted for health certificates, photography, checking temperament, dog washing and helping with transport the morning of the flight. If you are interested in volunteering, go HERE or contact Operation Pets Alive.