NBA All-Star Weekend in Downtown Houston – The Place to Find the Most Fun this Weekend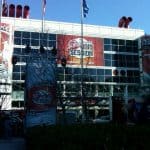 The NBA All-Star Game has taken over Downtown Houston.  With events all weekend, the streets are buzzing.  Walking from the METRORail Station to Discovery Green, you actually feel like you are in the 4th largest city in the United States.
We love downtown, but the weekends can often leave it a little empty without much company on the sidewalks.  That has all changed this weekend.
At Discovery Green, you can catch the free fun at  The Budweiser Experience at NBA All Star and at the George R Brown, across the street, you can catch the NBA All-Star Jam Session.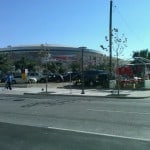 You have one more day to check it out, so go see how Downtown has come alive.  Participate in the free events or just find a bench and watch those that are out and about.
The best bet is to take METRORail to the Main Street Square station and walk 5 blocks east(ish) to Discovery Green.  If you do drive, try to park closer to the train tracks and walk to the events.  (Street parking is free on Sundays.)  The closer you get to the George R Brown, the more congested the streets get.
If you are not up for trying the many food trucks, head to Phoenicia Specialty Foods across the street from Discovery Green. (Psssst – They also have clean bathrooms.)  The front of the store is on Austin Street, so walk around the building to get in.  Either eat at Phoenicia or take a picnic to the park.