Celebrate Dr. Seuss's Birthday with Crafts, Green Eggs and Ham, and Read Across Americ- March 2
Dr. Seuss's Birthday is March 2!  Last year IHOP offered a Green Eggs and Ham special, but I do not see it advertised this year.  It looks like are on our own to celebrate.  But not to worry, here are a lot of fun ideas for things to do!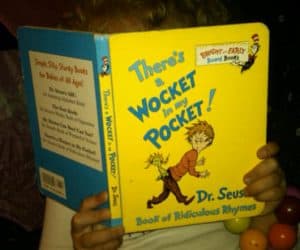 1.  Make Green Eggs and Ham!  At IHOP the green eggs had creamed spinach in them.  My kids were a little unsure of the addition, so I think we'll stick to good old food coloring.  Go HERE to see the Paula Deen Green Eggs and Ham or go HERE to see Green Deviled Eggs!
2.   Throw a Party! Whether it's big or small, throw a party to celebrate.  Find a Book
and put together some Crafts and Snacks.  Before you click,  be prepared to get sucked into Pintrest for hours and hours!
3.  Read Across America!  March 2 is Read Across America Day.  Participate by reading, printing out a certificate, crossword puzzle and a door hanger.
What ideas do you have?