Things to do in Houston, with kids, this weekend! January 11, 12, 13, 2013!
Houston is taking a little break after all the holiday events, but there is still some fun to be had this weekend!
My favorite is probably the Unlimited Free Train Rides, All Day, at Hermann Park, for members. An annual membership is $50 and there are free train rides on the 2nd Saturday of each month (an other benefits).  My kids are also insisting on the Downtown Aquarium, which is much better at half off admission (coupon below).
Weekend Events: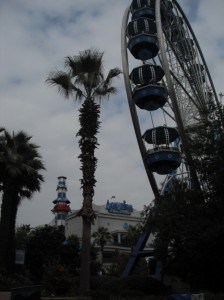 January 11, 12, 13 – The Ice at Discovery Green – Discovery Green
January 11 – HISD Magnet School Application Deadline – Turn in your application!
January 12 – Unlimited Free Train Rides for Members, All Day – 10:00-5:00pm – Hermann Park Train
January 12 – Lowes Build and Grow – 10:00am – Lowes
January 12 – Young Writer's Workshop – 10:30am – Discovery Green
January 12 – HPL Express Gardening – 12:00-1:00pm – Discovery Green
January 12 – Strawberry Picking – Blessington Farms
January 12 – Super Saturday, Buy One Get One Free Admission – Downtown Aquarium
January 13 – Chevron Houston Marathon – 7:00am – Downtown Houston