Hermann Park Kinder Station Free Train Rides for Members – $50 Gets You a Famly Membership
January 12th is the second Saturday of the month and Hermann Park Conservancy has decided to expanded the free member rides for the entire day!
The Hermann Park Railroad will be open from 10am – 5pm.  HPC members can show their membership cards at the podium in Kinder Station for their complimentary ride.  If you are not a member, sign up Saturday to take advantage of this benefit or join online.
If you get an annual membership, starting at just $50, you get access to the Member Express Line to board the Train at Kinder Station, complimentary unlimited train rides on Second Saturdays and free train and pedal boat tickets to use during regular operating hours. I think the unlimited, free, members only, monthly train rides sounds awesome.  Now, when we walk out of the zoo and the kids beg for $12 in train tickets, I can remind them of the monthly rides.
Go HERE to learn more.  From the Hermann Park Conservancy website, here are the membership levels.  This would make a great gift!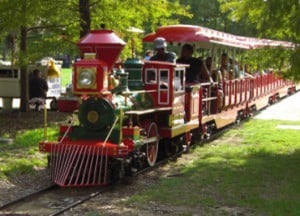 $50 Bronze
Four (4) complimentary Hermann Park Train tickets
One (1) complimentary pedal boat ride (for up to four people)
10% off a private Hermann Park Train rental
$15 discount on the Engineer for a Day program
$100 Silver
Six (6) complimentary Hermann Park Train tickets
Two (2) complimentary pedal boat rides (for up to four people)
10% off a private Hermann Park Train rental
$15 discount on the Engineer for a Day program
Name listed in newsletter and annual report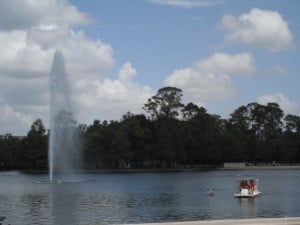 $250 Gold
Ten (10) complimentary Hermann Park Train tickets
Three (3) complimentary pedal boat rides (for up to four people)
10% off a private Hermann Park Train rental
$15 discount on the Engineer for a Day program
Name listed in newsletter and annual report
$500 Platinum
Sixteen (16) complimentary Hermann Park Train tickets
Four (4) complimentary pedal boat rides (for up to four people)
10% off a private Hermann Park Train rental
$15 discount on the Engineer for a Day program
Name listed in newsletter and annual report
$2,500 Conductor's Circle
Hermann Park Railroad Annual Pass good for unlimited rides for one + a guest
Hermann Park Pedal Boat Annual Pass good for unlimited rides for one + up to three guests
20% off a private Hermann Park Train rental
$30 discount on the Engineer for a Day program
Name listed in newsletter and annual report
Members at all levels receive…
Access to Member Express Line to board the Train at Kinder Station
Complimentary unlimited Train rides from 9-10am on Second Saturdays
10% off merchandise in the Conservancy Gift Shop
Subscription to Parkside newsletter
Invitations to special events
Window sticker
Membership ID card