Need Diapers? Chemical Plant Explosion Could Cause Diaper Shortage. Order a couple boxes now.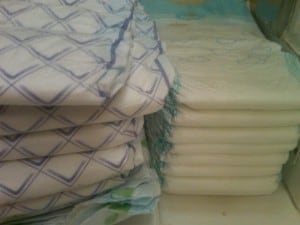 An explosion in a Japanese chemical plant from last Sunday could lead to a diaper shortage.  The plan produced about 20 % of the world's super-absorbent polymers used in disposable diapers. Read the full story HERE.
Prices still look to be low, but we're stocking up on a couple extra boxes around here.
If you are looking around, check out these Luvs Diapers Size 3
for only $0.13 cents each.  The box is $27.15 ($0.13 / count) with Subscribe & Save and Amazon Mom, plus, "clip" the $1.00 off coupon and get them for $26.15.  (And yes, I buy Luvs for my 3rd child.  Don't tell him his brother and sister got more expensive diapers.)
The
coupon is on the product main screen, just below the picture and price information. You need to be signed in to see the coupon (and you can only use the coupon one time).
Or maybe it's time to just switch to Reusable Diapers
and ignore the diaper shortage concern. We haven't tried these, but they sure are cute.