Main Street Theater – Magic School Bus: Climate Challenge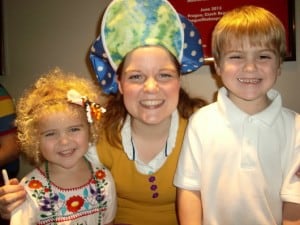 Main Street Theater is now touring with Magic School Bus: Climate Control.  If you are interested in them visiting your school, go HERE.
This show was available for 1 night only at Main Street Theater.  I am on business travel but enlisted grandma to take Joe and Brooke.
Just like Pinkalicious and Duck for President, this was a big hit with my kids.  Main Street Theater is casual and the perfect venue for taking young kids to see shows.
My kids danced in their chairs throughout the show and were pleased to meet the actors at the end.  One comment I will make is that the show promotes a healthy earth, which I support, but also simplifies the evils of coal, gas and oil.  Being in Houston, some parents may appreciate a more balanced message.
That said, we always love the Main Street Theater productions and always encourage you to check out the youth theater.  Either go to the theater or make arrangements for them to visit you!