Macy's Loop Hole – How to get 15% off without Macy's credit card.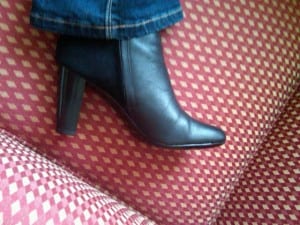 This week business travel takes me to Seattle.  Although I know it's late October, since it was 90°F when I left Houston on Sunday, I was not at all prepared for 40°F in Seattle.  My peep-toe shoes were not cutting it so I ran to Macy's for some proper boots.
With the goal of not looking so silly and for being warm for the first time in a week, I picked out these boots and paid for them with an old Macy's gift card.
This week there is a sale where Macy's credit card holders get 15% off their purchases.  I do not have a card, so I just ignored the potential savings.  However, when I paid with the gift card, it automatically took off the 15%.
I did not have enough on the card for the full balance, but could not pay with Mastercard if I wanted the discount.  Instead, the store let me buy a second gift card, with my Mastercard, and then pay for the boots with Macy's gift cards (and I got the 15% off).
If your store associates are friendly, try this for getting the 15% off…  ring up your purchase with tax and calculate the 15% discount.  Cancel the transaction.  Buy a gift card for the total.  Ring up the purchase again, use the gift card and get 15% off your entire purchase.
If your associates are grumpy, just buy a gift card for the approximate amount.   Then, use your gift card to get your purchase at 15% off.
Either way, let me know if it works for you!