Homemade Mermaid Halloween Costume
In August, I was told by my kids that we would all be super heros again this Halloween.  I was envisioning the Incredibles, minus the spandex for mom.  That all changed when Costco got their Halloween costumes in and Joe just had to be a Navy Pilot.  I found James this Toddler Pilot Costume
on Amazon and suggested to Brooke that she also be a pilot.  But no, that was another crazy mom idea.
Brooke was certain she needed to be a mermaid.  Since all of Brooke's hand-me-downs are blue and boy, I understood that she needed to be the most beautiful girly girl she could think up.  So, this began my creation of the mermaid costume.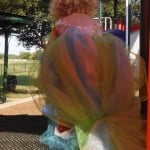 Although my improvised creations in the kitchen rarely turn out well, it turns out that my mermaid-costumes-on-the-fly turn out pretty darn good.  For the costume, I used a swimsuit, tulle-tutu-like-skirt and Starfish Barrette
.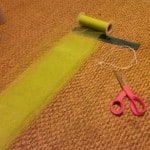 To make the tulle skirt, I ordered 3 rolls of 6″ x 25 yards from Halo Heaven (in Apple Green Shimmer, Turquoise Shimmer and Silver Sparkle) and found some thin Elastic
in my sewing kit.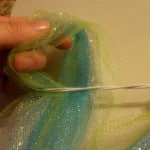 For the skirt, I wrapped the elastic around Brooke's waist, cut it to fit, and just tied it with a double knot.  Next, I got to making the tulle mermaid tail.
Brooke's legs are about 20″ long, so I took 20″, added 10″ for a little extra tail, and then doubled it.  I measured out 60″ strips of tulle in all 3 colors (green, turquoise and silver).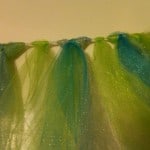 Once I had all the rolls cut into strips, I grabbed 1 of each color. I layered the green, turquoise and silver strip together into one piece, and then folded it in half.
I slid the elastic over a binder (so it would keep it's shape) and started to tie on the tulle.  To do this, I took the folded tulle, slid it under the elastic and pulled the long strip through the "loop" at the top of the fold.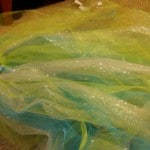 After tying on all but one of the tulle pieces, I scooted the knots to the back of the elastic.  This was to make a "tail" and not a "skirt".  I looped the final piece of tulle around and around (and around) the elastic that was showing in the front.
The final step was the gather the long pieces of tulle in the back of the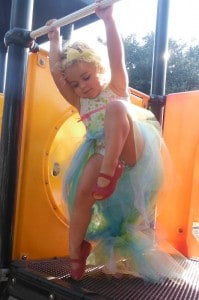 tail, and gather them together with a piece of Elastic.
By this time my floor was covered in the glitter from the silver sparkle tulle, but the tail was looking remarkably good.  And Brooke was certain that she would be fabulous in the creation.
She had a chance to wear the outfit to the first costume party of the season and it was a big success.  Everyone knew she was a (fabulous) mermaid.