Disney Nature's Chimpanzee at Houston Museum of Natural Science – Starting September 1, 2012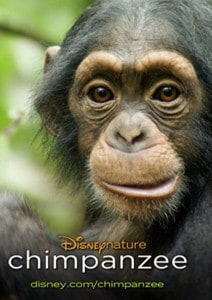 Disney Nature's Chimpanzee starts at the Houston Museum of Natural Science on September 1, 2012.
"A remarkable story of individual triumph and family bonds. Journey deep into the African rainforest and meet Oscar, an adorable young chimp with an entertaining approach to life. The world is a playground for little Oscar and his fellow young chimps that love creating mayhem. Full of curiosity, a zest for discovery, joy and a love for mimicking others, they are some of the most extraordinary personalities in the animal kingdom. Stunning hi-definition images bring you up close and personal as Oscar and his family navigate the complex territory of the forest. It's an inspiring and life-changing adventure that overflows with courage and charm. And it will capture your heart."
Go HERE to learn more.