Cheap Tutus, Hats, Bows, Wings and More at Halo Heaven + Coupon Code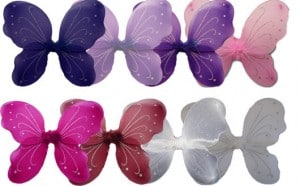 Oh boy! Halo Heaven is having another sale!
We get a lot of requests for where to find cheap tutus here at BigKidSmallCity. We find ours at Halo Heaven! For Brooke's last princess party, we handed out tutus that we had picked up for just $1 each!
To get a great deal, just go HERE to the Halo Heaven Closeout Section. Use coupon code BOY (as in "it's a boy!") to get 45% off your order, through August 5, 2012. What's even better is, all orders over $20, after coupon code, always ship free.
These wings, in the Below Cost Section, are just 50¢ with coupon code!
Go HERE to check it out.