Free ChickFilA Today! Go for Dinner!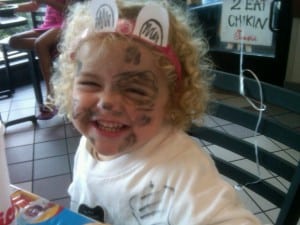 Today is Cow Appreciation Day and there is still time to get a free meal at ChickFilA!  If you dress in any cow costume, you will get a free meal.  If you wear a cow accessory (like a hat or scarf), you will get a free entree.
We made a quick costume today and got 3 completely free meals (chicken, fries and a drink).  Our ChickFilA even offered a free salad to my little vegetarian.
Tape or draw on some spots and head to ChickFilA for dinner!  Costumes can be simple… we took old white shirts and drew on black spots with markers, we taped paper ears on headbands and drew spots on faces with eye liner.  Lots of people were dressed up this afternoon, and those that were not wished that they were.
Go HERE for details.  No need to RSVP… just show up in costume!