Turn on the Oven Tuesday – Really Bad Chicken and Plantains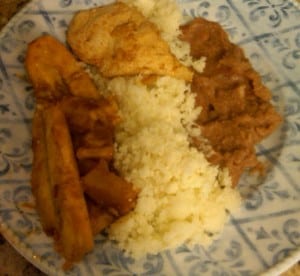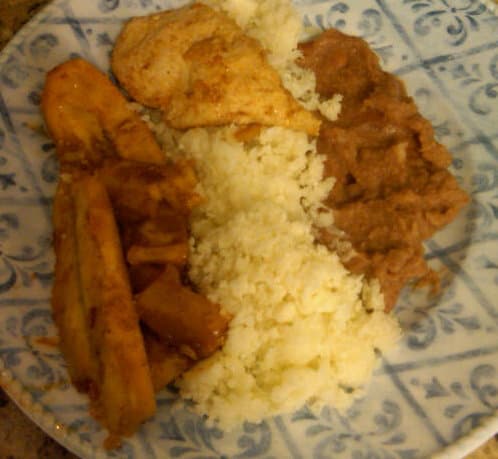 I started Turn on the Oven Tuesday to show my kids that those shiny boxes in the kitchen can actually cook food.  Inspired by El Cubano at El Pueblito, I made chicken with rice, beans and plantains.  As it turns out, I should have just kept the oven off.
I had no ideas on what to serve for dinner, but when I was walking around the store I saw plantains and was 100% confident I could make my favorite dish from El Pueblito.  I went home with my ingredients and announced that I was going to make the best dinner ever.
As I was browning the chicken breasts, my husband started asking me where I had gotten the recipe.  Why would I need a recipe?  I knew exactly what El Cubano looked like.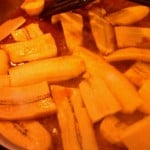 As I sliced up the plantains, my friend tells me that the plantains should really be much more ripe.  So, instead of yellow, I should have purchased brown ones.  Still, I did not let this get me down.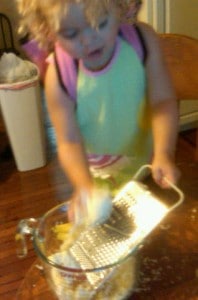 Next I decided that instead of rice, I would make my favorite cauliflower "rice" to make the meal healthier.  See details HERE.  My kids helped to shred the cauliflower and then I threw it in the microwave.
In the end, I had browned chicken breasts, fried plantains, refried beans and cauliflower rice.
We sat down for the best dinner ever and it was absolutely terrible.  If you can imaging biting into a raw potato, you have a good idea what the plantains tasted like.  The kids ate the cauliflower rice, which they generally eat when smothered in sauce, and told me that they wanted RICE and not white broccoli rice.  On top of this, the chicken was rubbery.  The only thing that was decent was the canned refried beans.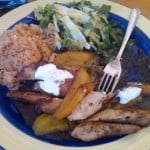 And my feeling weren't hurt by the complaints.  The meal was awful.  Next time I'll follow some instructions… or better yet, go to El Pueblito!