Eatsie Boys Food Truck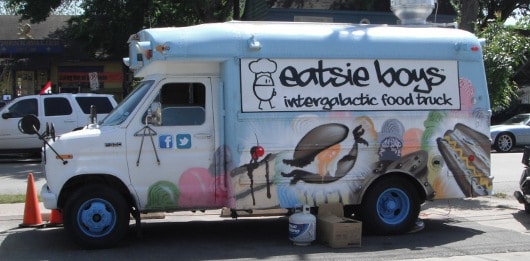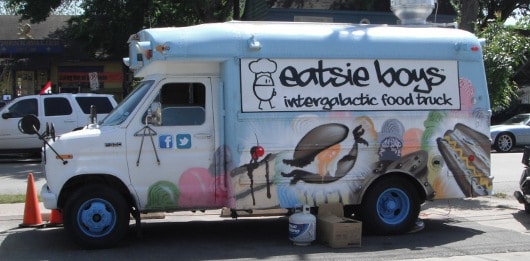 Address:  Usually at 1712 Westheimer, Houston, Texas 77098 (Agora Coffee Shop Lot)
Cost:  Reasonable (Not Cheap)
Hours:  Typically Wed-Sun 11:30am-3:30pm
Appropriate Age:  Any Age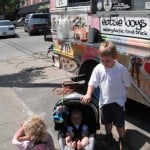 Our Review: I had heard of the Eatsie Boys Food Truck and my kids and I set out to find it after school. The truck is usually parked in the Agora parking lot on Westheimer.  On Thursday at 3:00 we were lucky to find it for a late lunch.
My kids have seen ice cream trucks, but never a lunch truck.  They through this painted "intergalactic food truck" was pretty cool.
After holding up each kid so they could see inside, 3 times each, I was able to order.  We got  Frank the Pretzel ($6) with a homemade chicken poblano sausage, sauteed onions, mustard on a Slow Dough pretzel bun and No Sleep Til Philly ($8) with sliced ribeye, sauteed onions, homemade cheese whiz on a Slow Dough baguette.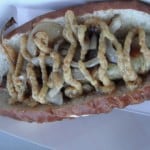 The kids shared an ice cream ($5) with half pistachio (for Joe) and half marshmallow (for Brooke).
We had the Voice Daily Deal, for $10 for $20 worth of food, so we paid no money out of pocket.  We had purchased the voucher for $10, so lunch cost $10.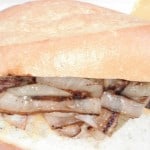 The gentleman in the truck was friendly, but not chatty.  He was wearing a cookie monster hat, giving the food truck extra points.  He encouraged us to visit the Agora coffee shop next door and to get our food in 7 minutes.
Although Agora welcomes Eastie Boy customers, and their food, we jumped back in the car and the kids ate their ice cream.  Just as advertised, the rest of the food was ready in 7 minutes.
We shared the Philly and the Frank, and they were fantastic.  The bread on both was out of this world.  There were no fatty pieces of steak on the philly and the sausage, which I don't usually like, was delicious.  I was concerned about the cheese whiz on the Philly, but this was not the stuff you buy in the can at Fiesta.  It was homemade and really good.
The kids reported that the ice cream was good.  I'm getting some next time because just look at some of the options:  Brass Monkey Caramelized Banana, Sweet Corn Shazam, Remote Control Red Curry, Sweet Relish Slow Ride, Makers Mark Some Noise + Golden Grahams, Funky Boss Fig+Ricotta and Shake Your Coconuts.
Keep an eye out for this funky food truck on Westheimer.   It is way cooler than that old ice cream truck we usually chase.