Nasaline Baby NasaKleen Nasal Aspirator – Really Gross and Really Works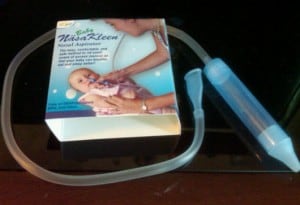 My third child has had a cold since the day he was born. I blame his older brother and sister and some bad parenting. (The poor guy was at preschool at 5 days old.)
In an effort to apologize for 6 months of germ exposure, I went to Amazon to find a good nasal aspirator. I read a lot of reviews and finally decided on this Baby NasaKleen- Nasal Aspirator
. What got me was the soft tip that wouldn't scratch baby's nose. I've been using it for a couple of weeks now, and I'm really impressed.
To use it I put (trap?) my baby in his high chair. I put the little tip in his stuffy nose and then suck out the mucus. Yes, suck out snot. As long as I'm really fast, he does not mind. If I goof around too long, he protests.
One review I read on this type of nasal aspirator said you can get sick from breathing in the germs. This brand comes with a little filter, but I'm not sure it does much. I'm still okay with using it because I'd do just about anything to make my baby feel better.
Sucking out the mucus is a little gross. But then again, when you have a baby, gross is just sort of normal. I mean, I've given up on wearing clean shirts and usually have a little spit on my shoulder.    The snot doesn't go anywhere near your mouth, and even if it did, I'd still use it since I feel bad about all the colds we've passed to baby!