Turn on the Oven Tuesday – Loaded Sweet Potatoes with Secret Baby Food Surprise & Brussels Sprouts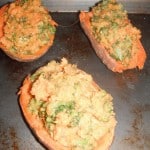 Each week I've been making an effort to cook a new meal for my kids.  Sometimes it's on Tuesday and sometimes I turn on the oven.  This week I did make a new dinner on Tuesday and I sort of used the oven.  My mostly-done-in-the-microwave meal was Loaded Baked Potatoes and Brussels Sprouts.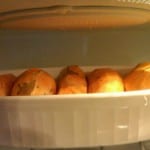 I took 4 sweet potatoes, sliced off any spots, and poked them with holes.  I put them in a shallow dish and microwaved for about 15 minutes, flipping every 5 minutes.  When tender, I pulled them out and let them cool.  I then took some chopped broccoli in a bowl, added some water, covered, and microwaved for 4 minutes.
Next I sliced the potatoes in half, scooped out the insides, and put the skins back on the pan.  I put them in the oven at 400°F.  After about 5 minutes, when they were crispy, I took them out.
I smashed up the sweet potatoes, added the drained broccoli, a little salt and a bunch of cheddar cheese.  I put it back in the microwave for a few minutes so the cheese would melt.   Finally, I added a little baby food surprise.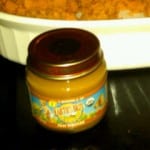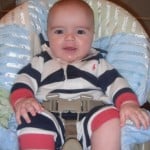 I purchased a whole box of Earth's Best Squash, which James quickly rejected.  I've been adding the purée to our dinners and no one has seemed to notice.   Last week it was in the chili and in the lasagna.  This week it was in the potatoes… and who knows what next week will bring…
Once the potatoes were loaded up with surprises, I scooped the mixture back into the skins.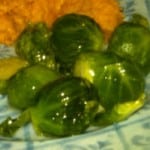 For the Brussels Sprouts, I just steamed them in the bag, in the microwave, for 5 minutes.  I then put them in a bowl with a little oil and salt.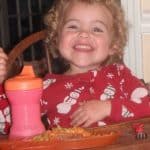 Within about 20 minutes of starting, we were sitting at the table and eating.  Joe focused on eating the Brussels sprouts, because they looked like something a dinosaur would eat.  Brooke gobbled up the potatoes, and told me, "I looove potatoes!", and gave me a thumbs up sign.  And James was just happy to have his squash baby food disappear!