Turn on the Oven Tuesday – Chicken and Vegetable Soup with "Raining" Noodles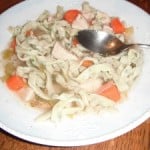 I have a bad track record when it comes to turning on the oven, and doing it on Tuesday. But I did pull off dinner this week. Want to know how? My Mother-In-Law was in town.
Technically, we did not turn on the oven, but she did make some awesome chicken noodle soup on the range.
Joe's request was for soup with noodles. I may have been tempted to open up a can, but not my MIL.
She browned chicken, chopped vegetables and made her own noodles.
To start, she chopped up chicken breasts and browned them on the stove. She then chopped up carrots, celery and onion and added them to a large pot with chicken broth. She let this simmer for a couple hours.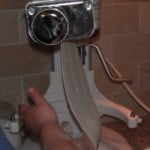 An hour before dinner, the kids made their own homemade pasta. Using the recipe I mentioned HERE, the kids got messy rolling and kneading and helping. Using the KitchenAid Pasta Roller Attachment
, my Mother-In-Law and my kids rolled the dough flat and then cut it into strips. As the noodles came through the roller, Brooke laughed and said, "It's raining noodles!".
Once the noodles were cut, they were boiled, drained and added to the soup.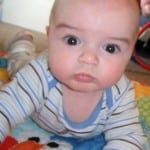 We sat down for dinner and Brooke said, "Raining Noodles please!". Joe and Brooke ate several helpings. I ate several myself. James witnessed it all and wants to know when he'll get his Raining Noodles.
I think soup might be so easy that I can do it… but without my MIL in town, I think my noodles will be coming in a little box from the grocery store!