Our Class Project – The Handmade, Hand Print Quilt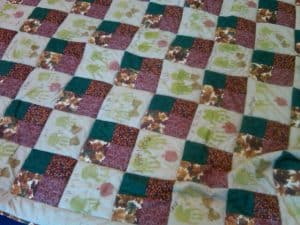 When Joe's class needed a class project for an upcoming school auction, I thought long and hard about my talents and what I could contribute to the school.  Then I volunteered my mother-in-law to make a quilt.  Check out the great job she did!
We purchased permanent fabric paint from Michael's and had each child leave their mark on a square of fabric.  After washing their hands well, they used a fabric marker to write their name across the top.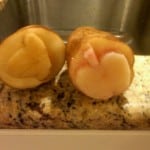 My mother-in-law then took potatoes and carved out acorn and apple stamps.  (Can you believe this?  She hand made her own stamps!)  We added the stamps to each fabric square and then set the paint by ironing the square.
The next step was to piece together the patches.  In just a couple days, she had a full 78″ x 70″ quilt ready for the school.
I wonder if I should tell everyone that I did it myself…. and then act insulted when they don't believe me. 🙂