"I Love School" Lunch Boxes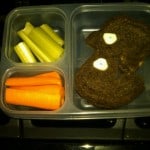 My son and I have an unspoken agreement. I make him cool lunches, he forgets to tell me he hates school each morning.
The first lunch of the week was an almond butter and jelly pac man sandwich. Not my best work, but enough to impress my 4 year old!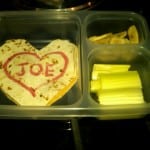 The next lunch was a heart for my little Valentine. I cut out the quesadilla with Kitchen Shears

and wrote on it with a Food Marker
.
Joe was excited to go to school each day, and I was excited that the was excited, so I'd say our little agreement is working out just fine. 🙂