"I Love School" Lunch Boxes
My son Joe used to say he hated school every morning. He didn't really hate school, but he loved to torment me by saying, "I doooooooon't wannnnnt to gooooo to schoooool", over and over and over. I started making fun lunches for him, and this whining magically stopped.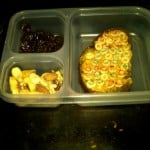 This week I made him some very "fancy" lunches. The first one was a peanut butter and Cheerio open faced sandwich. It was Joe's special request and he helped to color the Cheerios with food markers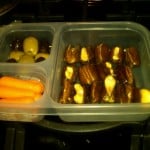 The next lunch was a fun finger food lunch. I sliced dates and added cashews and pecans. I also slid green and black olives on toothpicks and also gave Joe some carrots. After school Joe informed me that it is Brooke that likes the green olives… but all the rest of the food was gone.
Joe was excited to go to school each day so I'm calling it a successful lunch box week.