IKEA Houston Silver Screen at Discovery Green – Movies on the Lawn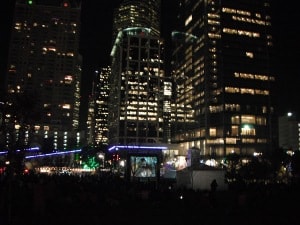 Last week the kids and I went to the outdoor movie at Discovery Green. We had a lot of fun and wondered why we had not done this before now.
We went to the showing of Home Alone during the holidays. We went at 5:30, before the 6:30 show, and the park was hoping and there was a game downtown. The problem with 5:30 is that many downtown streets do not allow parking between 4:00 and 6:00. The next time we go, we'll either go at 6:00 or we'll take METRORail. There is the option of parking in the Discovery Green garage, but this is $10, or parking in a lot, which can also be expensive. Since street parking is more available, and free, after 6:00, it did not make sense to waste the money.
As it was, we circled downtown several times and were lucky enough to find parking right next to Discovery Green. We ran over to Phoenicia across from the park and grabbed a couple po-boys to eat at the park. http://phoeniciafoods.com/ Back at the park we set out our blanket and ate our picnic before the show. At 6:00, there were several families on the hill. By 7:00, the hill was very crowded. My kids enjoyed the show and I was not worried about them making too much noise. The outdoor casual setting seems to be the perfect way to watch movies with kids.
If your kids are like my kids, you may get to visit the public restrooms several times on each outing. There is one at Phoenicia and one near the playground at Discovery Green. Both are decent as far as public bathrooms go.
Go HERE to check the latest Discovery Green schedule. There are more movies coming up. Grab the kids and go see one!
Jan. 5th: Sonja Henie – It's A Pleasure (PG) 1945, 90 min.
Jan. 12th: Gremlins (PG) 1984, 106 min.
Jan. 19th: Movie Title TBA