"I Love School" Lunch Boxes
Once again, I made fun lunches for my son. He gets a cool lunch and I get a happy boy who loves school.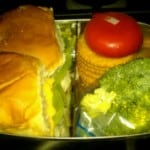 Last weekend I found the cool LunchBots
container that I had stashed on top of the fridge. For Joe's first lunch, I loaded it up with 2 spinach and cheese sliders on Hawaiian rolls. I added some crackers, cheese and broccoli. (Firemen eat broccoli, so it's an easy sell.)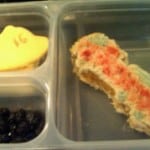 For the next lunch, I did my best to make a firetruck peanut butter and jelly sandwich with Edible Color Markers
and a Fire Truck Cookie Cutter
. I added dried blueberries, crackers, and cheese cut like fireman hats. I added number 16 for our favorite Houston Fire Station. The day Joe took this lunch to school, he ran in the gate and told me I could go home. I'm calling this a successful lunch box.