"I Love School" Lunch Boxes
I am still making cool lunches for my son. It's a nasty little trick I'm playing on him. I make him a lunch that is exciting to open each day, and he stops telling me how much he hates school in the morning. My trick is working, and I don't even feel bad about it.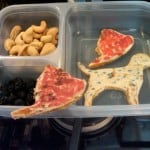 The first lunch was a dalmatian and fire hat quesadilla, made with Cookie Cutters
and Food Markers
.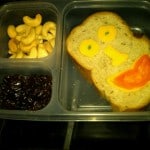 The next lunch was a funny face. I cut out cheese with Kitchen Shears
and used Food Markers
to add some color. My son did say that he did not really like the face lunches, because it was a little scary to have the sandwich look at him… but it was all gone when he got home, so I think he overcame his fear. 🙂