Cafe Express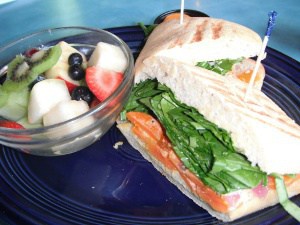 Address: Multiple  We visited the one at 1422 West Gray
Cost: Not cheap, but reasonable for the quality of food
Appropriate Age: Any age
Cafe Express is a Texas chain and there are several locations in Houston. We visited the one at 1422 West Gray on a weekend at lunchtime. The restaurant is located in the same center as Marshalls and there is plenty of parking. Inside the restaurant was busy but there was only a short line for ordering food. We ordered at the counter and took our seats.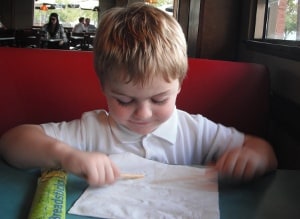 Cafe Express has an awesome condiment bar. My kids ate about 10,000 of the bread sticks and no one seemed to care. Brooke then shifted over to pickles and ate 5,000 of them. The bar also had pickled carrots, roasted tomatoes, croutons, olives, fresh parmesan cheese and more.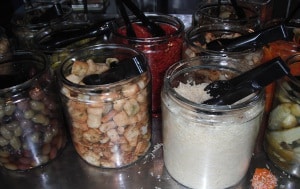 Iced tea is my favorite drink, and I often pick a restaurant for the iced tea over the food. I was not disappointed with Cafe Express. They had black current iced tea with lemons and mint leaves. I refilled my cup 10 times. (And this time I am not exaggerating on the number.)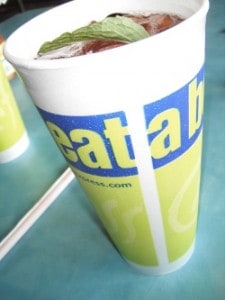 Our food arrived within about 5 minutes of ordering at the counter. I had ordered the Veggie sandwich with spinach, pickled carrots and onions, roasted tomatoes, hummus and fennel, creamy parmesan dressing on a ciabatta bread for $6.99. It came with a bowl of fresh fruit and was really good.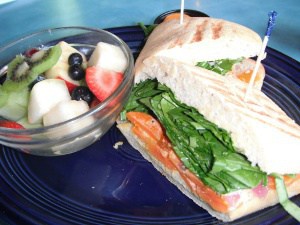 All kids meals are $4.29 and include a drink and fresh fruit or french fries. Brooke had the chicken tenders and Joe had the hamburger. Both kids liked their food. Other kid options are grilled cheese, shell pasta and marinara and mac and cheese.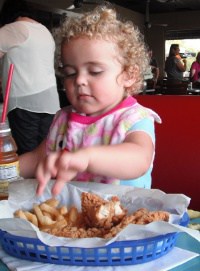 We really liked Cafe Express and plan to go back. The food was fast and really high quality.  It's casual enough for kids and nice enough for mom.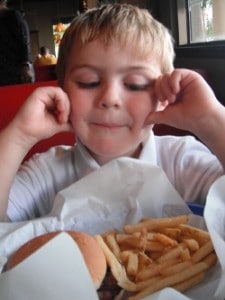 In case you are keeping track of James, he was along for the trip too. He was awake for part of the lunch, but when he decided he couldn't have any of the bread sticks or pickles, he decided to just go to sleep.