Our Lunch Project: Apple Peeler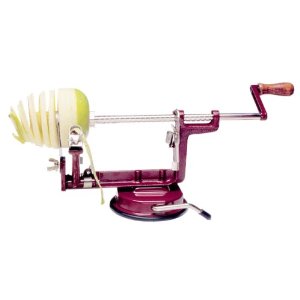 We have a newborn at our house, so our outings have slowed down a bit. Given their choice, my kids would sit down for a PBS day long marathon.  In an effort to keep the TV off and the kids entertained, I've been looking for easy projects that can be done with one arm (with baby in my other arm) or done quickly while baby is asleep.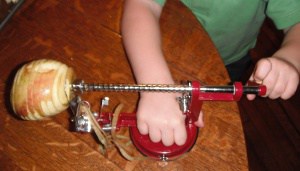 For lunch today, we decided to pull out the
Apple Peeler
that I picked up for $11.88 when it was for sale on Amazon. (The sale price is no longer available, but keep watching it… because it will likely dip down again.)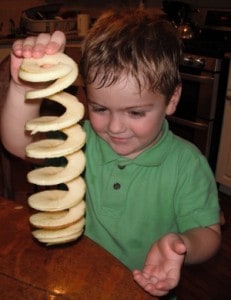 Joe thought it was great fun to turn the handle and it was easy enough for him to operate by himself. The coolest part is how the apple is sliced and cored while it is peeled. My kids love to eat this curly Q and even the skin that is peeled off.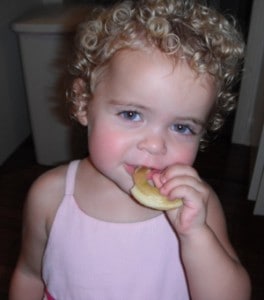 After we made our apples, Joe helped me roll up some hotdogs in crescent roll dough. We paired up the apples and pigs in a blanket, set the big kids down to lunch and the baby woke up.
For our next project, Joe convinced me to get out the Play-Doh (my archenemy… is it just my house, or does this stuff find its way into a million pieces that get tracked all over?). But, the good news is, the TV is off for now.